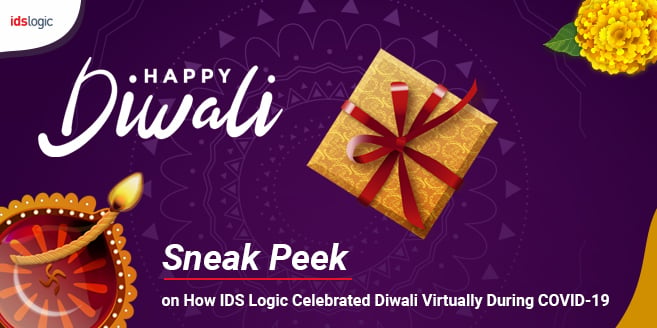 Sneak Peek on How IDS Logic Celebrated Diwali Virtually During COVID-19
Diwali, the most awaited festival is finally here! But, the things have not normalized yet. The pandemic is still here and we are fighting it valiantly. 2020 has already transformed our way of living and we have become extra cautious about our health.  Sanitizers and masks are our best pals now (pun intended).
Undeniably, this is the biggest festival, which is celebrated with great joy and prosperity throughout the world. This is the time to indulge with family, adorn traditional attire, and prepare lip-smacking dishes for the festival. Most importantly, decorate your house with dazzling lights to make it even more alluring.
COVID-19 Failed to Dim the Festive Spirit of IDS Logic
Since, the entire world is going digital, so we are. IDS Logic has embraced this change with an open heart!
Keeping the current situation into consideration; we celebrated this festive season virtually. We completely abided all the social distancing norms.
We started off by sending Diwali wishes to all our employees.

In the evening, a special message was given on the behalf of both the directors.

What's more? As a small gesture, we have gifted an Amazon gift voucher to all our staff to make their celebration even more joyous.
If we would be in our office, then we would celebrate it in a grand way. We would decorate our office space with different lightings, organize lunch for our staff, and distribute sweets and gifts.
Also Read: IDS Logic Makes Diwali 2019 Celebration Special and Memorable
Wrapping Up
We tried to keep the celebration low-key amidst coronavirus pandemic. But, we promise that in the next year, we will celebrate it on a grand scale.
Diwali is just round the corner. Keep your festive spirit high and don't let these challenging times dull the sparkle of this festival. IDS family wishes you all a safe and happy Diwali.
Also Read: Life at IDS Logic: Celebrations and Fun Activities