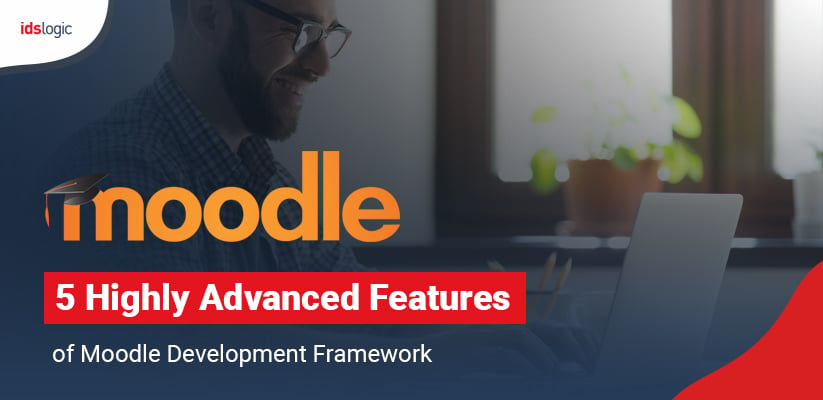 5 Highly Advanced Features of Moodle Development Framework
Education industry is evolving faster and moving out of the walled classrooms to provide learners a quality learning experience. Over the past few years, Moodle has emerged out as an effective Learning Management System (LMS) that is empowering millions of educators all over the world.
Let's have a deeper look at some of the advanced features of Moodle development services that provides a range of enhancements for admins, instructors, and students.
Competency Frameworks
Administrators can easily set up the competency frameworks. They can even add, modify, revise, and save competencies, custom set up, and link to different courses.
It becomes easy for the instructors and trainers to do student evaluation with competencies and students are allowed to access their learning plans for tracking progress and requesting reviews.
Gamifications
This specific module consists of gamification style that depends on the experience points that are provided to the students. A part from this, it also provides restriction of access to activities in accordance with the experience level of the users.
It is easy to use and you can add points in real time. In order to make this module work efficiently, the admin will have to configure the completion criteria for different activities that you have to monitor.
Are You Looking to Hire Dedicated Moodle Developers?
Recommendation Engine
The system provides recommendation of various courses to the students on the basis of their keyword search and present courses. A student will not be able to check his/her recommendations but can track the current status (completed, pending, accepted, or rejected).
The students will get an email with a unique link that will request them to fill the form online. Once the recommendation form gets completed, the instructor will get a notification which he/she can reject.
SCORM/AICC Compliant
This is essentially a combination of standards and specifications for web-based eLearning. It is useful in establishing communication between client-side content and a host system. SCORM is used for communicating between the course content and LMS. It is also helpful in defining the way content gets packed into a transferable ZIP file.
Also Read: How Log Reports Help to Track Student Activity in Moodle LMS
AICC facilitates communication between the course content and LMS. It utilizes an HTML form for sending information to LMS. The LMS will send back the information to the course in the form of a simple text string.
Localization
Multinational organizations need learning content and apps to facilitate multicultural needs of the students that are spread all over the world. These courses can be utilized by large number of audiences without any big changes.
With the help of translation and localization services, it becomes easy to create e-content on the basis of culture, ethnic background, and region. 
Also Read: Why Your Moodle Mobile App Needs a Good Branding Strategy