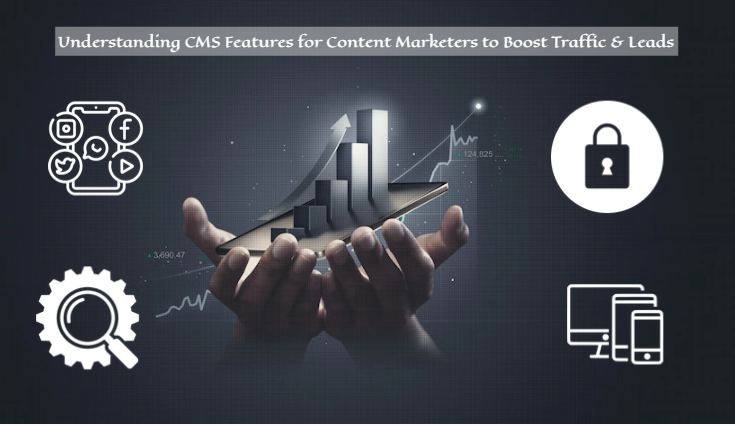 Understanding CMS Features for Content Marketers to Boost Traffic & Leads
With the advent of CMS technology, the content marketing has transformed rapidly. It takes less efforts and time to create, edit, and schedule content on the website for the content marketers. Not only this, they can add videos easily to the content for making it more engaging. In turn, it has raised the operational excellence within an organization.
When it comes to the CMS options, you'll get a wide variety to choose from such as WordPress, Drupal, Joomla just to name a few. Each offers excellent range of features and functionality. You need to check them properly and decide whether you should go ahead with that option for CMS development or not.
<p>Here, in this post, we've discussed the CMS features for content marketers that will drive maximum traffic and leads for the business. Let's take a look at them in detail:
Social Media Integration
Every CMS should come with social media integration capabilities. This is because it is the ideal way to increase the referral traffic towards your website. Make sure that it allows adding social media sharing buttons to your each and every post to extend its reach.
Round the Clock Security
It goes without saying that protection of the content and confidential business information is an unavoidable aspect. A reliable CMS is the one that comes with in-built security features that offers 24/7 protection to the website. You need to check that your CMS should have this feature for sure.
Advanced SEO Tools
To increase the visibility on the search engines, it is imperative to have a CMS that offers excellent SEO capabilities. You need to ensure that it allows the users to create SEO-friendly URLs, meta titles, tags, and descriptions. All our required for boosting the ranking of your content online.
Mobile Responsive Themes
There has been an inclination towards the mobile devices for accessing the websites. You need to go through the themes that your CMS offers, and ensue the fact that it is mobile-friendly. This will make your site deliver a seamless user experience across all the mobile devices.
User-Friendly Dashboard
A dashboard contains the major information of the CMS. This is the area where you will manage the content related tasks like monitoring activity of the users, threats, data analysis, and lot more. It is important that your CMS comes with intuitive dashboard that the users can understand without any hassle.
Businesses that are planning to set up a full-fledged website using the CMS technology are suggested to find a top-rated CMS development company. They'll opt for the right CMS by analyzing your business requirements carefully.