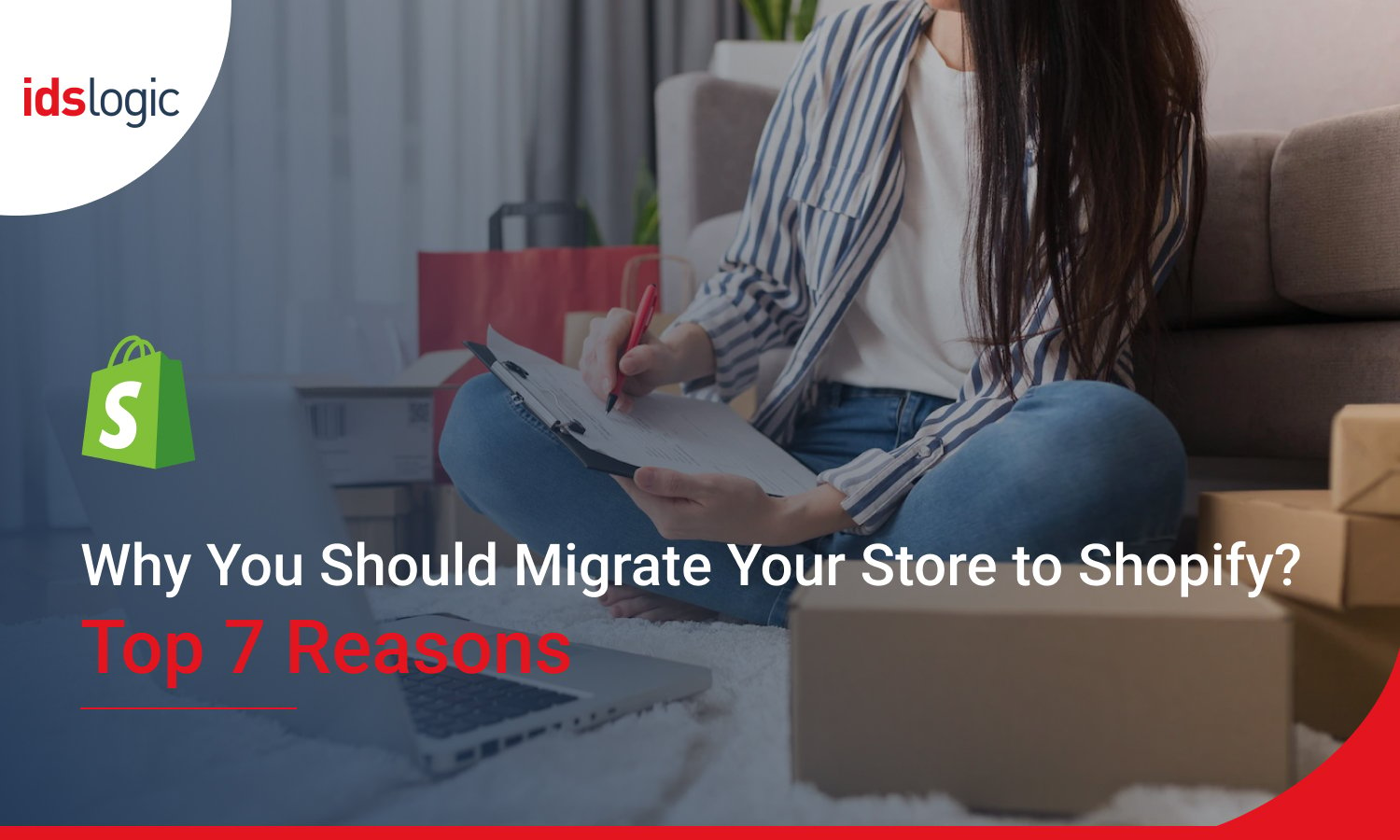 7 Reasons Why You Should Consider Migrating Your Online Store to Shopify
Do you want to migrate your online store to Shopify? You're thinking right! It has stood out as a powerful ecommerce platform that is trusted by millions of businesses worldwide. In the past few years, it has seen an unparalleled growth in revenue and we've got the exact number to prove it.
"Shopify's revenue increased to $1.4 billion in the third quarter of 2022 which is 22% greater as compared to the previous year"- it's indeed an eye-catching number!
It's clear that Shopify is taking the ecommerce industry by storm with enormous sales and revenue generation. Since this platform is going big, it becomes non-negotiable for businesses to build an online presence using it.
Important Facts About Shopify That You Probably Don't Know
As Shopify is growing rapidly and giving a tough competition to other ecommerce platforms like Magento (Adobe Commerce), OpenCart, here are some essential facts about it that will surprise you for sure.
Shopify made a debut in 2006! Since its inception, it is empowering business growth with its incredible range of features and functionalities.

Shopify is one of the most popular ecommerce platforms all across the globe with a 23% US market share.

Shopify has more than 7,000 employee strength.

Shopify has developed a strong ecosystem with 1,400+ apps on its app store that enriches sales and marketing efforts.

Shopify is the topmost choice of big brands like Nestle, Pepsi, Red Bull, Unilever, and a lot more.

Shopify theme store offers 100+ free and premium themes.

Shopify is PCI DSS certified to assure safe online payments for the customers.
With all these facts, it's safe to say that Shopify is steadily growing towards ecommerce domination. Shopify migration can provide fruitful returns to your business in the long run.
Why Shopify Migration is Best for Your Online Store?
If you're not satisfied with your existing ecommerce platform, then it makes no sense to delay Shopify migration any further. It can do more harm than good to your business.
Shopify is unarguably the most loved ecommerce platform and doing exceptionally well in the ecommerce industry by assisting retailers in growing their businesses.
Here is a list of reasons why you should migrate your store to Shopify.
 #1. Shopify is extremely easy to use
One of the main reasons why modern retailers are inclined towards Shopify is its user-friendliness. It takes little time to understand its functionality that makes the store setup process super easy for the businesses. It doesn't ask for technical excellence to get started with it.
Still, it is strongly recommended to take expert guidance in setting your store to get effective results. They have deep platform expertise to create an online store that sells faster and provide ROI.
#2. Shopify offers great scalability
As your business expands over time, you'll need an ecommerce solution that can scale as you grow. Shopify is a scalable platform that promotes exponential business growth. You've enough scope to increase your products and services in the coming years.
It supports businesses of all sizes- small, medium, and large scale. If you've future plans to expand your business, it is a superb option to go with. You can add unlimited number of products in your store effortlessly to meet modern demands of customers.
#3. Shopify provides excellent reliability
While looking for an ecommerce platform, it's imperative to opt for the one on which you can count upon easily. Shopify is one of the biggest ecommerce platforms around known for its reliability.
With its highly efficient and robust servers, it can manage a large number of requests at a time. Your store will run continuously with a 99.8% uptime rate.
#4. Shopify stores amazing themes
Appearance matters a lot for any ecommerce store to drive traffic. Shopify has plenty of free and paid themes to choose from. All are pretty attractive that can make your store look classy and professional.
The best part is that the themes are fully customizable and can be modified easily as per your brand's needs. Above all, they're responsive enough to adapt the screen size of tablets, mobile phones, laptops, etc.
#5. Shopify delivers high performance
Speed and performance greatly impacts the user experience. Having an online store that takes more than three seconds to load can annoy your customers and force them to leave your store without purchasing anything. It's necessary to look for an ecommerce platform that provides high-grade performance.
You might be happy to know that Shopify is designed to withstand complex and heavy business load without hampering speed and performance of your store. In short, it has a blazing fast speed that results in higher engagement and conversions.   
#6. Shopify is highly secure
Data security is a serious concern while running an online store. Cyberattacks are quite common nowadays. Make sure that ecommerce platform you decide should protect sensitive information about your business and customers.
The good news is that Shopify is one of the safest ecommerce platforms out there. From releasing security updates on a regular basis to making stores SSL certified, it leaves no stone unturned to make your store secure.
#7. Shopify has round-the-clock support
If your online store stops working in the middle of the night, what will you do? You will contact the support team. But what if your ecommerce platform doesn't provide this facility? It's quite a problematic situation! And that's why you should check for technical support in your ecommerce platform.
Shopify offers 24*7*365 technical support to troubleshoot problems. All your issues will be resolved in no time. Not just this, you can find resources and tutorials to develop a sound knowledge of this platform.
How We Can Help Your Business?
Migrating an online store is a critical process and we fully understand this fact. That's why, we make it painless for businesses by adding our domain expertise and years of practical knowledge.
As a leading Shopify development company, IDS Logic offers a dedicated team of Shopify experts to help you with a smooth transition from any ecommerce platform to Shopify while ensuring no data loss and downtime. Contact us for more inquiries!