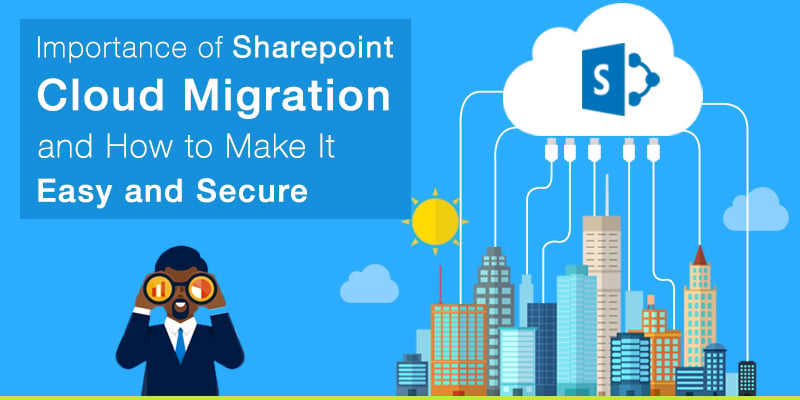 Why SharePoint Cloud Migration is Important and How to Make It Easy and Secure?
Remaining competitive in the market is imperative for the success of your business and to keep your organization ahead of your competitors. You are often forced to accept the technological changes and implement strategies across the business through sound investment decisions to make the right balance between the risk and cost.
Faced with varied content management challenges and an increased dependency on technology for collaboration, you require a flexible environment that can support the needs of numerous business processes.
Most business organizations all over the globe use Microsoft SharePoint and are now considering to streamline the environment by harnessing the benefits of increased scalability, flexibility and efficiency by availing cloud based enterprise collaboration solutions.
A well-managed cloud collaboration environment eliminates the need of intensive administration and also frees up valuable resources that can be used on other high value projects that can further help your business ambitions.
Cloud Services for SharePoint:
Cloud Services for SharePoint development is a hybrid or a private cloud service that offers any business with a fully managed and comprehensive collaborative platform that is based on the latest version of Microsoft SharePoint.
Delivering an effective, mobile and centrally governed collaborative environment, the cloud services can be used to offer optional extranet, intranet and also tailored internet functionality. It mitigates the risk and costs through a shared platform and infrastructure with a segregated and tightly controlled SharePoint environment that meets the integration, governance, customization and also the security needs of the business.

---
Some Benefits of Availing Microsoft SharePoint Cloud Services:
The success of your business often depends on the ability to adapt dynamic market environments where economic pressures and globalization are together reshaping the landscape.
Increased Business Agility:
Reduce the service build out time by accelerated SharePoint deployments also through automated upgrades and free important internal resources for other high value projects.
1- Easy and flexible scale up and down of resources to keep pace with the changing needs of the business.
2- Automated provisioning ensured quick delivery and management of the SharePoint development software and infrastructure.
3- Enhance innovation and productivity through a dynamic collaboration environment that supports rapid speed to market and response times by offering access for mobile and fixed users from anywhere and anytime.
---
Lower Risks:
1- Hiring experts having specialized skills of an experienced cloud partner help in delivering hybrid, on-premises and SharePoint cloud solutions.
2- Regular updates, assessments and monitoring ensure high availability and security.
3- Avail consistent and quality services that are governed by well-defined service level agreements.
4- Ensure high data security and sovereignty compliance through private cloud infrastructure.
Are You Looking for SharePoint Migration and Upgrade?
---
Reduced Costs:
1- Helps to leverage existing SharePoint licensing investments and drive cost efficiencies through Microsoft License Mobility.
2- Save various operational costs of the company and cuts down capital expenditure by decreasing the need for an expensive onsite management and infrastructure.
3- Have a better budget control through customized management services and predictable costs where you have to only pay for what you use.
---
Making a Smooth Leap from Server to SharePoint Cloud:
If you have plans for a SharePoint cloud migration, then it is another step towards success as 34% IT business owners are considering to move the content from on premises deployments to the cloud. And with each year, the number is growing. But before making a jump to the cloud environment, it is important to follow certain tips before migration.

---
Migration to the Cloud Often Means that You have Dozens of Work to Complete Encompassing:
1- Thousands of documents
2- Custom-built business apps and process workflows
3- Customized website layouts
4- Controlled access to sites and documents
With so many things to consider, the thought of SharePoint migration often can become stressful. But the good news is that, you can reduce the pain by simply planning ahead and also by following some important and basic guidelines.
1- Do an initial assessment of current content that includes apps and workflows so that a proper and effective strategy can be created to only migrate critical resources.
2- Plan a new SharePoint architecture, so that you can focus on meeting the user's needs instead of just reflecting your current on-premises design. "It's always been this way", may not be the best path to adapt to technological changes.
3- Have a review of your integrated systems and apps, and also test them to find out what will work with SharePoint Online or with Office 365 version.
4- Migrate sites for crucial business functions first as they affect many employees and partners. Don't let your HR folks resort to copy machines and paper forms while you transfer the content and fix problems slowly.
5- Migrate content in stages, so that you can test your apps, business workflows and sites in manageable chunks. By doing this, you will have fewer troubleshooting issues.
6- Start fresh as it will be easier to create new SharePoint Online site collections, workflows, projects from scratch instead of matching the functionalities of already existing ones that needs extensive customization.
Though the entire process may involve a lot of time than you expect, but a carefully planned and methodological migration can save countless hours and frustrations in the future.
Also Read: Modern SharePoint Pages and Its New Features for The Users