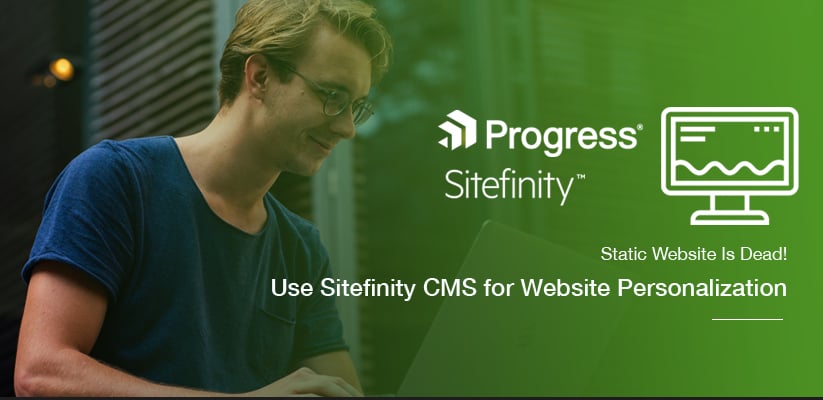 Static Website Is Dead! Use Sitefinity CMS for Website Personalization
Delivering the right content to the right person at the right time is often a tricky task. And your marketing campaigns could benefit big time from it if you cater to a varied audience segments.
94% business owners state that personalization of content is crucial to their present and future success.  Whether it is through Facebook, LinkedIn or any other social platforms, presenting your website as per the needs of the visitors are vital and they should access it from any device they are using.
To keep up with the evolving expectations of the visitors, best in class organizations are now moving to Sitefinity CMS and going beyond static website and proactively managing the user experience that are based on profiles and online behavior.
Yes, the advantages of a personalized approach are becoming clear. Instead of asking the visitors to find their relevant information from a heap of pages and products, offering filtered content to improve the user experience matters.
Reputed brands are getting to believe that personalization pays off and most of them are of the opinion that improved business performance and customer experience are the core drivers.
Those who have already adopted personalization by using Sitefinity development, have stated that the have seen an average uptick in sales by 19% which means increased revenues.
Sitefinity:  The Primer for Website Personalization
What does it mean by website personalization?
Let's understand this with an example. Suppose you visit Flipcart website or any other global online retailer.
The first thing that you find is greeting and suggestions that are relevant to your interest that you expressed in your previous session. The company learns about your preferences and tailors the response according to your needs.
What to Expect from Sitefinity 11.1 Beta Release?
In this dynamic digital environment, companies need to address their varied audiences and Sitefnity CMS helps you to build relevant and personal conversation with the customer and remain proactive in engaging them and attaining your specific business goals.
Sitefnity CMS helps to deliver different versions of the content, page assets and also web pages to different types of audience that are categorized according to segments.
The defined segment is based on the user characteristics and the data that combine in rules and conditions. With Sitefinity CMS you can do the following:
Personalize the web page and create a specific version of a page

Personalize the default widgets

MVC: Content block, blogs list, events, lists, card widget

WebForms: Content block, Image widget.

Personalize page templates

Reuse personalized widgets
---
How Sitefinity Helps in Customization:
Sitefiinity helps to combine the personalized page elements and create a fully customized page that is reflected on the site for specific target segment. Website owners can also reuse the personalized widgets between pages using the specific widget in the page layout.
This makes your website content and layout flexible. Besides these, you can also personalize a whole page or the layout of pages and use the preview tool to view the website from varied user perspective.
Is Your Sitefinity Website Slow?
Profile based, perspective personalization concentrated on specific segments of the users and the personals are built based on the groups of characteristics and data found in the customer and prospect database.

Similarly, behavior based personalization can also be used to target fresh visitors who do not visit the site with expressed preferences or even fit into the established profile. It is by tracking how these visitors arrived to your site and checking their navigation patterns, we can use business rules to respond appropriately.
With website personalization, visitors will interact with your Sitefnity website in a different way and at different stages and help in the decision making process for your organization to evolve.
---