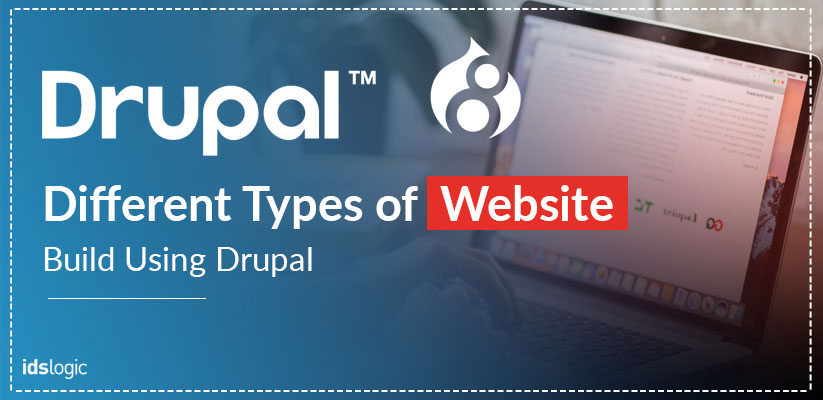 Different Types of Website That You Can Build Using Drupal
In this super crowded market of different types of websites, the only one way to make a mark is by creating a user friendly, attractive and functional website.
If you are planning to create a website for your next project and looking for a cost effective means to accomplish the task, then Drupal is the right CMS to choose and it offers excellent features and customization solutions.
A leading open source platform, Drupal is a flexible CMS that helps to create websites that may be large or small.
Combined with a wide range of features that include scalability, top notch security, detailed taxonomy and etc. Drupal offers a great choice to the business owners and allows them to create anything of their choice. In this blog, I will list the different types of sites that can be best created using this Drupal CMS platform.
Different Types of Sites that can be Best Created Using Drupal 
Social Networking Websites: 
Drupal is one of the best CMSs that helps to build social networking sites as it comes with many robust features like permission systems, user management and etc. But if you are willing to create a real networking site, then you must consider some Drupal based modules.
The module directly consist of may modules that can help you to achieve your goals.
---
Blogging Websites:
Many people consider WordPress to create a blogging website, but Drupal too is a good choice when it is about developing a blogging website. With Drupal, there is no need of an additional module as it has some of the great modules that help to organize the web content and increase the visitor's engagement.
Some modules include Taxomony, Views, Disqus and other social media modules.
---
Enterprise Web Applications:
Drupal 8 CMS supports the development of high power enterprise applications that can handle large data volumes and help to drive automation within the organizations. The multi-site feature of the CMS allows the developers to create feature rich enterprise applications.
A single code can be used for numerous other sites having their own database and configuration settings.
---
Video and Image Sharing Websites:
These types of websites are extremely resource intensive and Drupal helps you to create effective solutions as it integrates with CCK and converts the videos into FLV, which allows the users to share the videos easily. 
Drupal development also helps the developers to create image sharing websites as it offers an image module that allows you to create image based websites like the Flickr.
---
News Portals: 
Drupal CMS is perfect to create news websites or a magazine. It is by using the Views module and the CCK, that you can create different types of posts and also list them in a flexible manner. Today, there are plenty of websites that are powered by Drupal.
Also Read: Things You Should Know About Drupal Security to Ironclad Your Website from Attacks