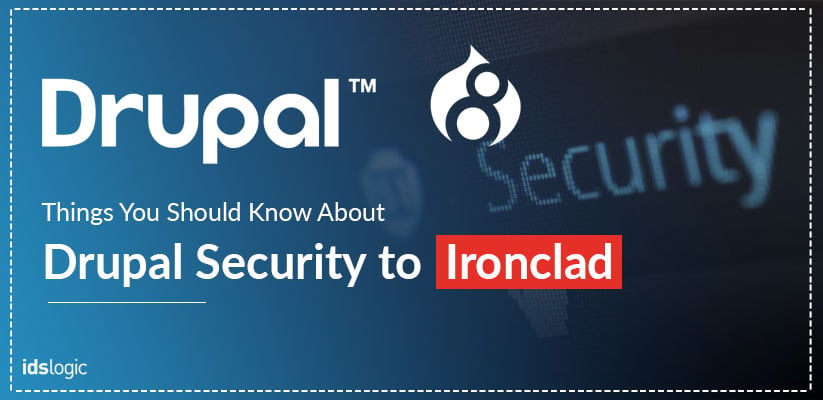 Things You Should Know About Drupal Security to Ironclad Your Website from Attacks
With the increased frequency of websites hacking incidents coming up in recent times, web security has become a cause of concern for the website owners. As the risks become greater, the need to address them also increases and it becomes important to consider adequate security measures irrespective of the CMS platform that you have chosen to use.
Drupal is an open source CMS and has been acclaimed as one of the most secured open source platforms by online software standards.
Besides being a secured platform, Drupal has faced several threats that increases the need to make the website hack-proof.
How Vulnerable is Your Drupal CMS?
Assessing your Drupal website is the first step to begin the journey to address your security risks. The most common vulnerabilities are usually associated with cross site scripting.
And the recent ones that are detected had great implications because it had potentially affected millions of users using the Drupal version 6 onwards. Another major issue that Drupal users have faced is an SQL injection vulnerability.
Considering these facts, it has been stated that Drupal still faces some of the risk despite being declared as a secure platform.
Important Drupal Security Features that Makes It Stand Apart:
Drupal is an open source CMS and since the source code is open to the developers. There is a big chance for fresh bugs to come up every now and then. Drupal security analysts have stated that independent audits from third parties and release patches have helped to eliminate many such issues. 
Are You Looking to Hire Dedicated Drupal Developers?
Still to remain safe, high security protocols should be implemented so that there are no loopholes left for the cyber attackers to wiggle through.
Granular Access Control:
Drupal CMS helps the users with a granular control that helps give permission on who can view and make changes to the site. With this feature, you can now create roles that provide limited permissions to the viewers.
"Compared to other CMS platforms, Drupal offers better protection from major common malware threats."
---
Database Encryption:
Another very strong security feature that Drupal CMS offers is the database encryption. You can easily configure to encrypt the entire database or some very specific parts like the user accounts, content types, forms and etc.
The level of encryption indicates that the CMS can easily be configured to offer privacy compliance standards that are issued by PCI, HIPAA and etc.

---
Drupal Update Manager:
Drupal CMS also comes with the Update Manager, which is a unique module that helps to track the latest updates and offers automatic notifications about the new themes and modules for the website.
It allows the users to avail the latest security patches and updates as soon as they are released that helps to better protect the website.
---
Password Security:
Drupal CMS allows the users to encrypt their passwords that are stored in the database during the first install. The passwords are hashed many times and this makes them obscured to such an extent that they become safe from password cracking attacks.
Users can also leverage the modules like the 2 factor authentication and SSL to improve the password security.
Also Read: A Detailed Feature Based Comparison of Drupal vs Sitecore