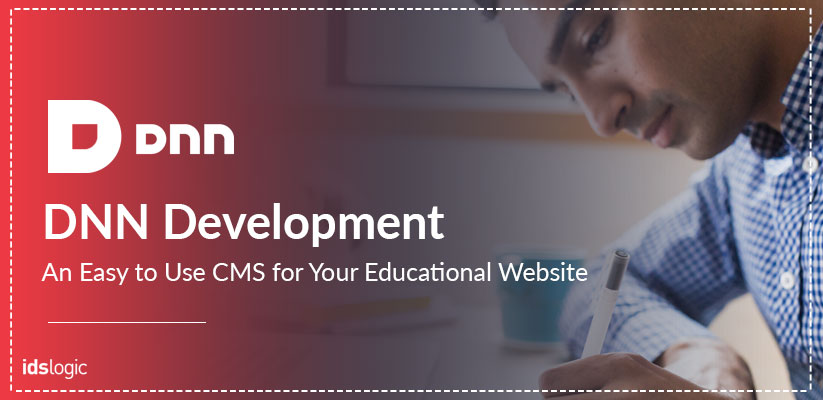 DNN Development: An Easy to Use CMS for Your Educational Website
DotNetNuke is a popular CMS that is built on ASP.NET. and the developers prefer to use it as it can function both as a web CMS and as a web application development framework. A perfect and feature rich CMS is needed to create an educational site.
Today, hundreds of colleges and academic organizations are using DNN development to create and manage their websites, departmental microsites, intranets or staff extranets and even online learning sites. With DNN, website owners can now easily manage the content of their main site and for independent department sites all from a single dashboard.
Academic institutes use the rich features of DNN to build their course catalogs, faculty pages, event calendars, alumni pages, department pages and etc. Higher educational websites often have to cater to multiple audiences that include students, parents, faculty, alumni and enrolled students. DNN offers content creation and analytics tools to ensure that business owners are effectively reaching the audiences.
The Benefits of Choosing DNN Development for Educational Websites:
DNN helps you to manage and share multimedia and static content that includes documents, images and videos. It also provides the developers with built-in connectors to Dropbox, SharePoint, thereby making it very easy to access the varied content that is used across the campus. This enables the colleges to use their preferred storage services, without wasting valuable time and without moving the files.
Mobile friendly website:
Today, majority of the users use their mobile devices to gather information and even learn something while on the go. DNN development has made it easy to deliver a customized, online experience by using any device from anywhere and anytime.
The Endless Possibilities of Dotnetnuke CMS
The built-in templates are all mobile responsive and allows the users to focus much on compelling and useful content. Users can access the content on the site and use it from any device and at any time.
---
Grow the content team:
The responsibility of creating, editing and publishing the web content is increasing the roles in various departments. DNN's permissions and workflow can be used to manage the growing team of the content contributors. As more and more people contribute to the content, you will have to monitor and enforce consistency and also implement instrument quality controls to match the university standards.
DNN offers granular permissions that allow the users to assign the editing rights and offer privileges to each group.
---
Student engagement:
Educators and students often have a natural desire to engage within themselves. DNN offers an online community that helps both the students and faculty members to easily engage on the website through various discussions, forums, answers, user profiles, events and etc.
DNN is the best option for any academic website as it ensures security and uses a secured architecture for data safety. It also offers control over who is visiting the web page and who is editing the web content.
The CMS is highly customized and makes it popular among the developers and the users. It helps to develop a clean and attractive design for the educational institute and helps the audience focus on the brand without stuffed texts and graphics.