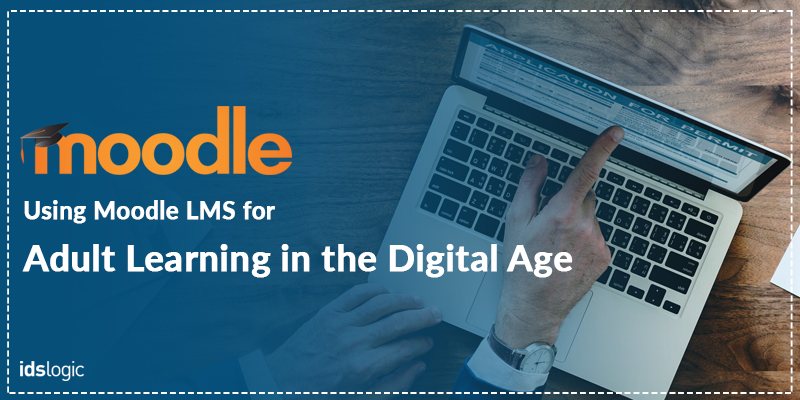 Using Moodle LMS for Adult Learning in the Digital Age
Behaviorism, constructivism and cognitivism are the three broad learning theories that are used when a course is designed for adult environments. In recent years, digital technologies have become accessible to almost all parts of the world from inner city urban neighborhoods to the rural villages. This new technology has the potential to transform what and how people learn throughout their lives.
Adult learning with the scope of various digital technologies has emerged as the most popular means for both the learners and the educational institutions. Today, organizations are using learning management systems to introduce various courses so that learners from diverse locations and of different age groups can continue with their learning process.
Designing an elearning course for the adults needs a careful understanding of how and why adults learn. It is only with a clear understanding and applying the Adult learning principles that you can properly use your LMS like Moodle development to create the right engagement in the e-learning courses. To take full advantage of the Moodle LMS, we need to rethink our approaches to adult learning and use our ideas of digital technologies to completely support them.
---
Some Key Adult Learning Principles that You Should Keep in Mind:
E-learning courses are offered to heterogeneous learner profiles, but adult learners share some common characteristics. Here I have outlined some common characteristics of adult learners that you should know before designing the course for adult learners:
Experienced and Knowledgeable:  Adult learners have huge experience and knowledge, which they always bring to their current learning so, while doing the course if they feel that their experience is not acknowledged, it might hamper the training.
Goal Oriented:  Adults often have some objectives that they want to attain so they want to know the benefits of doing the course and how it can align with their goals
Task Oriented and Problem Solvers:  Adult are always keen to learn something that would help them solve their problems or any critical situations. They want to be active participants in the entire learning process.
Responsible and Self-Directed:  Adults love to be considered responsible and respected for what they do and so it is very important to make them feel that they have complete control on what they are taught and the way they learn it.
---
How Moodle LMS can Help in Adult Education?
Whenever educators create lessons or activities, it is very important to put themselves in the learner's shoes. To keep the adult learners engaged, presenting information in a professional yet interactive way works. Organizations that have embraced the spirit of learning and the changing approach will soon discover the power of Moodle LMS and how it can be creative and innovative in teaching. Moodle is a web based platform and can be accessed from any location and at any time with an internet connection.
Moodle is often used in adult training in many small and large government or business organizations. It helps with completion tracking, SCORM compliance, easy enrollment and payment options, use of social and collaborative features and etc. Since Moodle LMS is easy to use and well supported, adult learners can easily learn to use it without having to face much difficulty.
What Makes Moodle Cloud Hosting the Best Solution for Your Business?
Moodle does not have pre-loaded lessons. The content is decided by the instructors who are aided by many Moodle tools and activities. Each course starts with an empty outline that the instructor can easily customize. They can use some individual activities or some collaborative activities for the adults so that they can easily complete their assignments directly to Moodle.
Thus to conclude, it can be said that Moodle LMS has all the features to support adult learning in the digital age as it offers solutions to issues related to it.