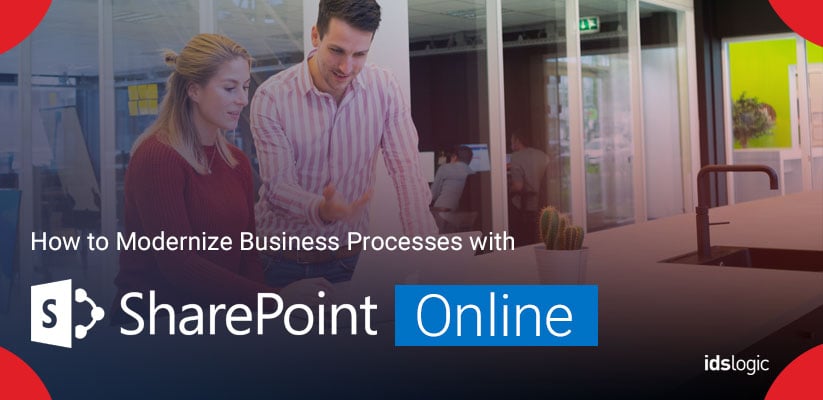 How to Modernize Business Processes with SharePoint Online
Launched about 18 years ago, SharePoint is a web based collaborative platform that allows you to create applications or project specific sites that supports the business processes.
This Microsoft's enterprise collaboration platform is embedded in many medium and large organizations in some form or the other and SharePoint Online is a part of the Office 365 subscription service that allows hundreds of thousands of users to access the software.
SharePoint online allows the users to access the internal site, create document libraries and other shared documents and data across the company, whether the user works within the office or remotely via the cloud. It helps to create intuitive intranet sites with customized images, documents and texts to deliver the content.
Crucial Steps to Follow While Modernizing Business Process with SharePoint Online
SharePoint as a Core Project Management Tool:
SharePoint comes with a project management site template that allows the users to easily create the intranet pages to help maintain the internal activities, documents and schedules that are related with specific projects.
It is with the help of a 'Microsoft Planner`, you now have a great alternative to the classic SharePoint Project templates. The planner offers visualizations that summarize the project activities and this can be integrated into other pages.
---
Consider a Proper Migration of Documents:
When setting SharePoint Online, special care needs to be taken when migrating or upgrading to the newest version. It is common to consider the lift and shift approach that ensures all the documents and important content and site structures are seamlessly moved to the new platform.
However, this approach can create some compatibility issues. The tool has also come up with significant changes that include modern site, introduction of PowerApps and hub sites and this may need legacy sites to be restructured once again for better performance.

---
Using SharePoint Development as the Gateway to Other Services:
Office 365 has numerous new apps and some even app overlapping capabilities that SharePoint offers. Though some apps may compete with SharePoint development, the platform still has some of the most powerful file sharing and storage management features. It may no more be the destination for everything, but it still remains to be the gateway to all the major services that the users or enterprise often needs.
Note: Most failed projects are often the result of poor preparation and planning. It is important to define how the platform will be used with the enterprise.
---
Lay More Emphasis on The User Interface:
When it is all about out of the box templates and also UI capabilities, SharePoint doesn't enjoy a good repute. Many users are not satisfied. Earlier the administrators had to modify the site master pages by using any third party apps like BingTuning, Powell 365, ShortPoint and LiveTiles to customize the look and feel of their intranets.
Are You Looking for SharePoint Update and Migration Services?
All these customization features are now available within SharePoint Online, and this has made it very easy to shift from classical to modern sites, thereby reducing the need to use any third party applications.
Note:  Investing in ongoing education and training is important to ensure successful implementation of SharePoint
---
SharePoint Team Sites and Office Group Sites are the Same:
Users who are now moving to Office 365, now have a new set of tools that allows them to communicate and collaborate efficiently without using multiple services and vendors. The Office Groups were added recently that allowed the users to have an easy access to the latest SharePoint template and functionality that is similar to the traditional SharePoint sites. 
The Groups allow the users to access and even share the calendar, files, tasks and modern websites where relevant information is maintained.
Also Read: Modern SharePoint Pages and Its New Features for The Users

---