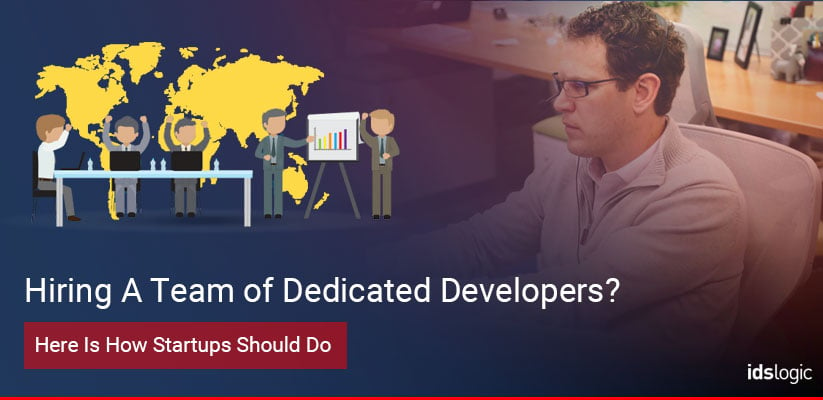 Hiring A Team of Dedicated Developers? Here Is How Startups Should Do
Whether you are a startup company or an enterprise, creating world class apps or digital products needs a dedicated infrastructure. Choosing the latest technology, using various tools and techniques needs expertise and to deal with complex problems, it is imperative to have a team that is dedicated to your project.
Hiring dedicated developers is a crucial phenomenon for the startups and early inceptors in the business as committed developers can help in establishing the brand name of the company.
"But the tricky question is how can you be sure that the dedicated development team that you have selected is best for your business organization?"
Choosing experienced professionals who are acquainted with the right skills at the best salary is the greatest challenge that comes in the way of a startup company.
Best Strategy to Hire a Dedicated Development Team
Gather Recommendations from Some Credible Sources:
Word of mouth or personal brand advocacy are essential things about connecting the startups with a software development team.
Since the skillset needed can vary a lot for projects, so the team that you should hire must have exactly the talents that you need so that you can use the team to your best advantages.
You can ask your friends or colleagues for some reliable references with whom you can get in touch with for your project.
---
Your Internet can Help You to Create Your Team of Developers. How?
Searching the internet is the most common practice that business owners do when they start their job with searching the web.
You will find many software development companies offering dedicated hiring services through their website landing pages over the internet.
Companies that offer such services are often very serious about their work and can also offer custom tailored solutions for startups and businesses.
You can choose the keywords related to the technologies of your project to find experts online. But failing to do this will stop you from getting acquainted with the right professional or dedicated developer in the sector.
Also Read: Hire the Best Dedicated Resource for Your Project
---
Social Media, A Great Platform to Find Good Developers. Use It
Social media platforms like Facebook and LinkedIn are great mediums where specialists often post their profiles, and highlight their skills and also show previous work experience.
These platforms have certain niche groups and here you can find skilled, dedicated developers that you require. You will be referred to such groups if you ask for some references among your acquaintances.
Social media is a powerful tool that helps to establish contact with many dedicated software development companies in India and the U.K.
---
Take Some Time to Attend Seminars, Hackathons & Conferences:
You will find various conferences, seminars and hackathons arranged by many software development companies that cater to dedicated hiring requirement of clients in USA, Australia, Canada, UK, India and etc.
Joining their network and attending their events will bring you in contact with professionals with whom you can discuss your project ideas in details. 
Even if you don't find the right talent that fits your requirements, they can still give you references that can be very useful for your project.
---
Choosing a Dedicated Team from a Freelance Platform:
You will find various websites like Freelancer or Upwork that can help you with your search for dedicated developers.
In these platforms you will find both experienced and fresher on board who offer a wide range of services and can be hired either hourly, weekly or monthly as per the project needs.
Hiring them for your startup helps with cost effective and flexible work options.
But hiring developers from a freelance platform often has some disadvantages.  The quality of deliverables, future support, on time delivery depends a lot on them.
So be careful to choose someone from a reliable source so that you can avoid any hassles later on.
Also Read: Hiring A Dedicated Developer? Here Is a Checklist to Follow