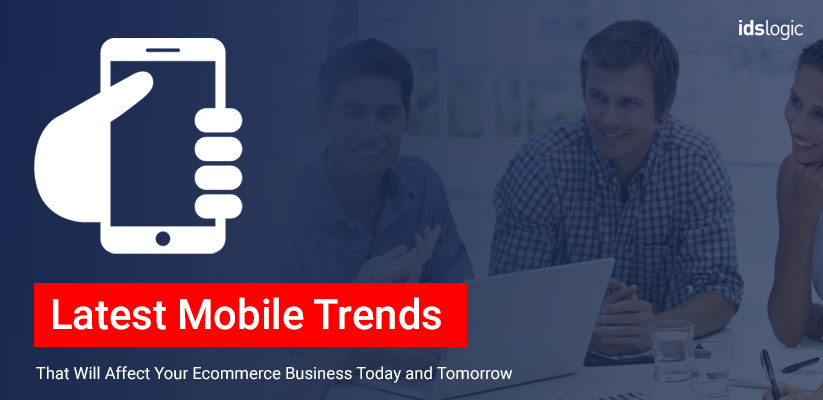 Latest Mobile Trends That Will Affect Your Ecommerce Business Today and Tomorrow
The core challenge of any ecommerce business is to stand out in the market competition and reach out to the customers. And this can be really difficult among the competition and considering the best means to expand the customer base may be a daunting task.
Most business owners understand that ecommerce is a major part of retail sales as people are more keen to make online purchases by using their smartphones to make any transactions because mobile devices are handy.
Why Mobile Trends are So Influential in Ecommerce Development?
Standing out in your ecommerce business now involves recognizing the behavior of the buyers and taking care of their comforts and conveniences.  So, if your core objective is to make shopping online easier for your clients, then you should be familiar with the core mobile trends.
Hiring a reliable ecommerce development company in India will help you to clearly follow the latest trends and enjoy the advantages.
Top Mobile Trends that will Affect Ecommerce Business:
Voice Search is the New Trend:
There have been great advancements in the natural language processing and we can now use our voice commands to give instructions to our mobile applications.
For instance, Google Home, Amazon and Starbucks are already using this voice technology and have implemented it into their products.
It is by integrating voice search into your ecommerce mobile application, that you can make things more convenient for your customers so that they can place their orders easily.

---
One Click Payments will Become the Norm for Ecommerce Services:
One core reason of cart abandonment is that the effort that the shoppers have to invest in completing the online transaction is complex. 
As a result, businesses have to get smarter and embrace the concept of a one click payment so that the entire process is simple and short.
Both the desktop browsers and mobile wallets can use their digital wallets and there is no need to key in personal details manually every time you make a transaction.
---
Augmented Reality will be Used to Drive Customers' Shopping Decisions:
Ecommerce development is using a lot of new technologies together with mobile friendly features. Mobile devices now support Augmented Reality and m-commerce will bring this revolution for ecommerce businesses in the future. 
Industries that deal with apparels and home décor can help their customers to see how the apparel would actually fit them without even having to step into the store.
Are You Looking for Ecommerce Development Solutions?
---
Advertisements Based on Geographic Location:
Your ecommerce business will benefit a lot if you are able to create ads that are based on the geographic location that are beneficial to all.
This helps even the smallest business to increase their visibility among large enterprises. Such ads, when found by mobile users can push them to reach your ecommerce site.
Since the ads are based on the location, it helps to reach out to local customers easily. This means that every ecommerce business will now have to create a mobile optimized website to remain in the market.
---
Using Chatbot for Communication with the Consumers:
Chatbots are powered by Artificial Intelligence and they help the ecommerce store to interact with their customers without having to hire any customer support employees. 
The chatbots can answer typical questions within seconds and also guide the users through the entire search as well as purchasing process.
The key benefit is that they can simulate a conversation with the customers in a very natural way and also help them to solve any issues quickly.
Considering the immense popularity of mobile devices, ecommerce business owners should keep up with the time and invest in the latest mobile trends that will help them improve customer loyalty, boost sales and solve customer issues.
Also Read: How to Pick the Best Ecommerce Theme for Your Online Store