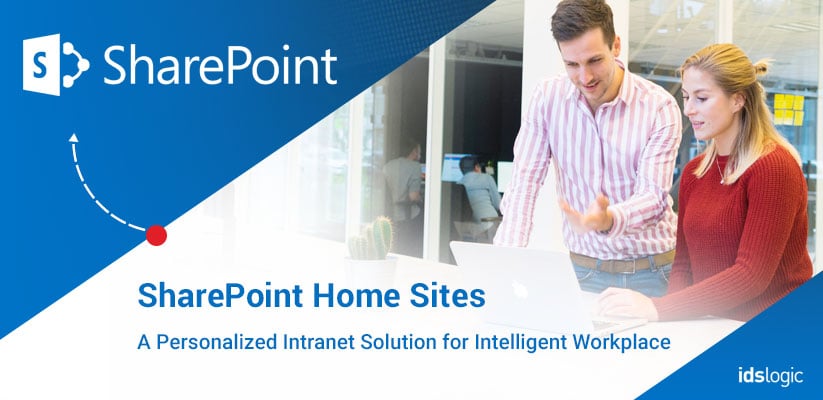 SharePoint Home Sites: A Personalized Intranet Solution for Intelligent Workplace
At the SharePoint conference recently, Microsoft declared that the new SharePoint home sites will now allow organizations to create intelligent landing sites with only a few clicks. 
Intelligent intranet is the heart of a digital workplace and it delivers experiences that offer shared content and solutions needed for collaboration, boost communications and drive employee engagement and also harnesses knowledge by connecting content and people.
What are SharePoint Home Sites?
SharePoint homes sites are a dynamic, landing sites for your organizations that bring events, content, news, videos, conversations together to deliver an engaging experience to the users while reflecting your priorities, voice as well as your brand.
It is a great means to share ideas by using documents, web parts and images and it also helps the users to create and publish pages easily and quickly, and since they are responsive, they also look wonderful on any device.
---
 Some Highlights of SharePoint Home Sites:
Robust Menus:
SharePoint home sites have come up with robust menu options like the recent megamenu that allows you to create visually engaging navigation experience that helps to show multiple levels at the same time. This feature allows you to better organize and also showcase the related content and website from all over the organization.
---
 News:
This can come from various parts of your organization, but you may need an official and authoritative site for such news. SharePoint Home site allows you to create a balanced organization news that is distinguished with a visual cue with relevant, personalized content that are targeted to employees.

---
 Engaging Experience:
Keeping your visitors engaged with the right content is key to the intelligent intranet. Home sites enable you to easily embed various videos, conversations and also content from Microsoft 365 and more so that you can remain connected with the latest activities and information that matters you the most and also across all your devices.
---
 Integrated Search: 
When your search option is powered by artificial intelligence, it offers highly personalized insights to be surfaced and this makes the employees more productive and allows them to take the advantage of the collective knowledge from your organization that is both inside and outside of Microsoft 365.
Are You Looking for SharePoint Migration and Upgrade?
---
 Some Latest Features of SharePoint Home Sites for the Future Workplace:
SharePoint home site is a vision of Microsoft for the future of the workplace intranet. They are powered by AI and offer a landing page for the employees that is highly customized based on the employee's role.
The features Include:
The home sites include powerful search technology that can easily reach every corner of the company's intranet.
The home site intelligently shares the content that is relevant to the users based on the position they hold in the company
SharePoint home sites offer additional personalization options and this allows to customize the pages easily for maximum productivity.
Home sites also pull together other collaboration tools like Stream and Yammer into a single location, so that they can be easily customized for the end users.
Also Read: Modern SharePoint Pages and Its New Features for The Users