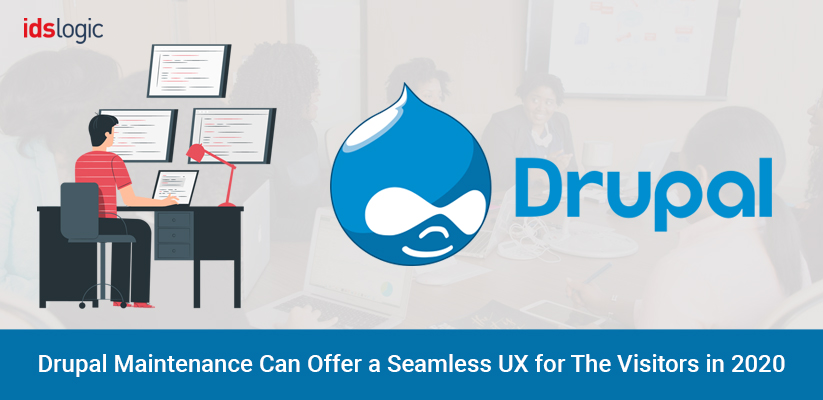 Drupal Maintenance Can Offer a Seamless User Experience for The Visitors in 2020
Maintaining your Drupal business website properly could easily double your potential market value as customers often look for a secured website through which they can avail various services or purchase products. It is true that there are several components of a Drupal site that can hinder the security and many custom modules, core application, base themes and contributed modules should be updated for better performance.
It is only by maintaining your Drupal web development that you can get all the issues fixed as early as possible and also ensure a smooth, secure and flawless performance.
Why a Drupal Maintenance Plan is Essential?
About a decade ago, business owners could only create a static website display pictures and publish content and then leave the site unattended for a year. But the scenario has changed a lot today and you can't simply lineup features and functionalities even for a few days. Since your organization's reputation, business operations and market dominance are at stake every now and then, it is crucial to prepare a proper Drupal maintenance plan so that all the operations can be completed within time and you have a strong online presence without any downtime.
What is a Maintenance Plan and What Comes Under it?
A Drupal maintenance plan is a support strategy that solely depends on the requirements of the clients.  Based on the functionalities, website scale and version, the support and maintenance initiatives can be easily customized. However, there are some industry standard models that caters to a variety of businesses. While there are numerous aspects that a maintenance model covers, here are a few that we have listed for your reference:
Hosting infrastructure maintenance

Third party module or extension integration

Version upgrade

Error of bug resolution

Security updates

Backup and recovery

Troubleshooting

Minor feature improvements
All the activities that are taken care of by Drupal maintenance company in India offers the agreement that differs from business to business. For example, if your business is a startup or operates at an intermediate level, then a standard plan would be enough for you. Again, if you operate at the enterprise level, then you might have multiple websites with similar functionalities across them and in such a case, an enterprise Drupal maintenance and support plan would be the best, which will of course include regular health check of the website for malware or any outdated functionalities, immediate security upgrades, 24*7 support, bug detection cum resolution and etc.
Also Read: The Journey of Drupal from 1.0 To Drupal 8
Is Drupal Maintenance Really Rewarding for Business Growth?
Your website may be full of imperfections like disabled call to actions, malfunctioned pop-ups, glitches, lags that can easily drive the visitors away. Hiring an agency that will support your Drupal website round the clock will surely ensure that the visitors don't experience any flaws. With all around support, you don't have to compromise on the reputation of your business and your visitors will also return for more.
Uncompromised Security: There are various parts in the Drupal site that can help you increase your user base. Acquisition of customer information by the intruder can be a worst case scenario. Drupal maintenance company can help to keep the security and patches updated.
Prevent Functionality Failures: Payment gateway crashes, content updation issues, button disabilities, inactive contact forms and etc. are some of the functionalities that may not function properly. With a support service, you can easily reduce the failures and even control the damage.
Performance and Speed of the Site: The speed of the site depends a lot on the backend function that may undergo certain fluctuations. And if this is too frequent, then you may lose business opportunities. Your website should load within a time of 4 seconds and proper maintenance services can help to maintain the time to first render, time to first response and the overall load time of the website.
Thus to conclude, it can be said that a Drupal website is best when it is maintained on a regular basis and all sudden abnormalities are taken care off.
Also Read: Differences Between Drupal 7 and Drupal 8 From A Technical and Business Perspective