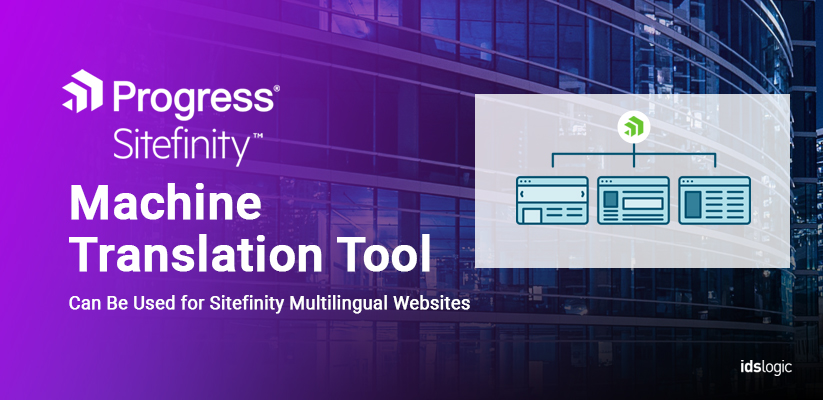 Machine Translation Tools Can Be Used for Sitefinity Multilingual Websites
Sitefinity CMS is a reliable CMS that enables the marketers to create, store, present and manage the web content of the site. The content and web pages of your site can be multilingual and you can use instance to manage multiple sites that can share the content. The multilingual content of your site allows you to connect with your global audience in their regional or native language with localized content and digital assets in various languages, which also includes Arabic that requires a right to left format.
Sitefinity helps to improve the SEO with localized URLs and metadata and also ensures that the site is relevant and discoverable in the countries you do business. Now it allows to manage more than about 50 languages from a central place without having to sacrifice the website performance.
Sitefinity Multilingual Support with Machine Translation:
Creating the best content for your website can help you boost your business, but finding good authors and marketers is important and then you also need to choose the right tools to generate high quality content. It is here that Progress Sitefinity development has come to help. With Sitefinity you can now simplify and even automate the content creation process with AI services.
Creating web content at the right time and publishing it can be difficult at times and is also a time consuming task. Is it possible for you to find writers who can cover all your desired languages and do you have the budget to cover all?
Spreading your business across various cultures need a lot of effort, but the multilingual content presentation should not be discouraged. But there is one solution that can help you reduce the cost and also help you to automate these tasks. Cognitive AI services can be leveraged to translate the content. Sitefinity has come up with multilingual capabilities that have long been one of the key differentiating features that from other CMSes.
Sitefinity CMS development supports unlimited language versions for the web content in terms of items and pages and also for the backend for which there is a support for many language packages out of the box. The translation module helps the users to automate their process through the translation services or the machine translation connector. 
It is with the release of Sitefinity 11 that the machine translation API was introduced, which allowed the users to use any machine translation service and translate their web content in any language they required immediately.
Understanding the Pros and Cons of Using Machine Translation with Sitefinity Development?
The most important benefit that you can enjoy with machine translation are a faster time to market and cost efficiency. Since the translation is done very fast and you don't have to wait for hours or days to convert the content to your desired language, you don't waste more time and money.  And over all you don't need to wait for any support.
Also Read: Content Marketing Through Sitefinity That Helps Business Grow
But this is also not free from any disadvantage as the translation may not be 100% accurate and in some cases even the slightest inaccuracy can lead to limitations in the services. But remember that automated services are also improving every day and this concern will surely reduce over time. Anyone with basic knowledge in specific language can quickly scan the translation and increase the overall quality without having to do the entire job. The heavy lifting can now be done by machine.
Today, there are the latest tools that are technology enabled and can be integrated easily to generate the rules of a language and produce a translation of the web content that helps to increase the power of your Sitefinity solution.