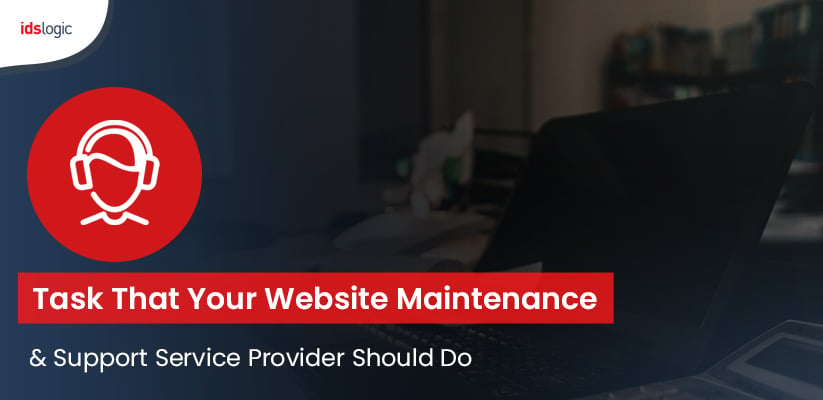 Task that Your Website Maintenance and Support Service Provider Should Do
Creating a website for your business is important and maintaining it needs a lot of expertise and focus so that it performs well all through without any downtime or fail.  Your business is like any machine that has to be regularly maintained and services, similarly your website too needs to be maintained so that it can stay ahead of the market competition. You need to ensure that your site ranks high on search engines and offers your visitors what exactly they want. Since the market competition is very high, and everyone wants to secure a top position in the market, so if you don't stay updated, you may lose a lot of business opportunities too.
A Quick Checklist of Your Website Maintenance and Support Service:
There may be different types of list for your website maintenance and this actually varies based on the type of business you do. Since keeping your website smoothly running is crucial, and from time to time website security updates and patches also needs to be considered. Without a proper service, your website has the potential to be an actual danger for all those who click on it.
Here is What Your Website Maintenance and Support Task should Contain:
Tasks to be Done Weekly:
Review all the pages of your site so that there are loading without any errors.

Run a backup to ensure the previous version of your site is stored

Make updates to the site for software and plugins

Remove any spam comments from the posts and pages

Check all the pages to find any broken links

Review all the forms and if they are functioning properly.

Search for any 404 errors and fix it

Write blog posts to keep the community engaged and encourage the SEO traffic
Tasks that Need to be Done Monthly:
Check the website speed and ensure that it is performing at its best

Analyze the website statistics from the previous month

Review all the security scans and ensure that nothing is out of place

Check the blogs to see if the articles need any updates
Tasks that Need to be Done Yearly:
Update any software or migration of the site if needed

Ensure that the website domain name is renewed

Consider whether the site design needs to be updated

Check any active email address and verify if any are extra

Recipe the web pages for content accuracy, typo errors and relevancy
Why is it Important to Hire a Website Maintenance and Support Company?
Your website in the most important asset of your business and if it is updated and running smoothly, then it can help your business grow within no time. If it is not in a good state, then it can cost your high and it is only by hiring a professional website support and maintenance company that you can keep your website well performing and maintain its speed. Here is how it helps:
Keep up with the latest trends in technology and design

Maintain the corporate image or branding

Update the security patches

Offer current information and keep the look engaging

Maintain the SEO strategy
Once you have established that website maintenance is a must for your business. it is time to hire a reliable service provider who can take care of all the tasks every day. Since they are professionals. They know what to look for and how to achieve perfection.
Also Read: Issues You Might Face If You Neglect Your Website Maintenance and Support Service