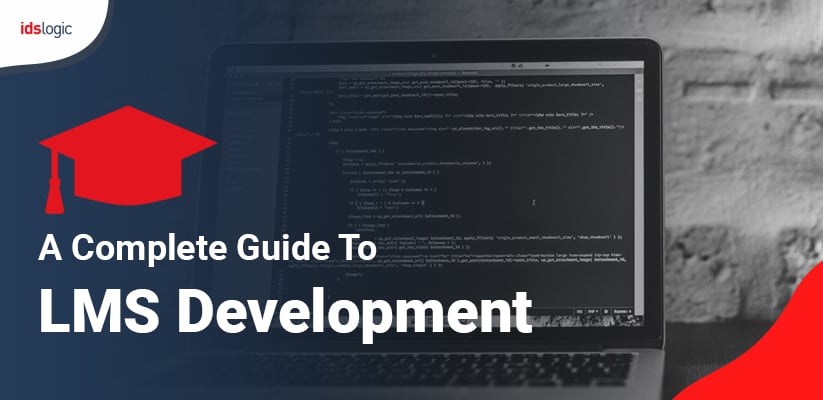 A Complete Guide to LMS Development
With technological advancements, we are adopting various means to stay competitive and the learning industry is no exception. Today, academic institutes and learning organizations are moving from the traditional form of teaching to online training and investing in LMS.
The term LMS or Learning Management System makes an appearance frequently in the eLearning articles, and it plays a great role in meeting an organization's objectives and desired outcomes.
However, the most common use of LMS software is to deploy and track the online training initiatives and upload all the resources and assets online, which makes them easily accessible for remote learners. 
Here in this blog we will discuss in details about LMS so that you have a complete idea before choosing an LMS platform.
What is the Basic Function of an LMS Development?
The role of an LMS often varies based on the objectives of the organization.
But the most common function of an LMS is to take the course material online and allow it to be accessed by anyone from any corners of the world and from any device. As the assets are available online, it can be accessed any time and this helps the learners with continuous education even on the go.
LMS helps organizations to create solutions that can boost the skills of the learner and at the same time keep them engaged.
Such solutions are also easy to access and track the learner's performance and update them about their progress. It helps to disburse information on a particular subject and help with training.
The two top functions of LMS include:
LMS Offers Training:
LMS is designed to facilitate employee training and it also helps to generate, distribute and track the employee training.
Today, companies have invested hundreds and thousands of dollars to train their employees and so it makes sense that these organizations would rely on the LMS that can engage the learners, generate and also distribute and track the employee training.
LMS based employee training often becomes more engaging and interesting and helps to increase knowledge retention and also reduce the time employees spend to enhance their skillset.
Also Read: The Value of Online Assessment in LMS Development Solutions
Helps Reduce the Costs of Training:
Of all the functions of LMS, the most important thing and crucial function is that it helps to reduce the training related costs, which most corporate leaders love. Some individuals or organizations don't have the idea that LMS development can also help to reduce the costs associated with training and they know that it isn't cheap to develop a solution.
But the point is that investing in an LMS can help you to reduce your training costing for a longer time and it also helps to dramatically reduce the overall cost in a company.
Are You Looking to Hire Moodle LMS Developers?
Since online learning has the ability to reduce the training costs, it is adopted by many organizations nowadays, it helps to eliminate the need for companies to rent out a physical space, classrooms and hire instructors and also pay for the paper based course materials needed for the training.
Online learning also helps to eradicate the need for business travel which may cost up a lot every year.
Who can Take the Benefit of an LMS Solution?
Learning Management system or LMS can be used by educational institutes, training organizations and corporates offering training to their staffs. 
Extended enterprise online training is also one more application for LMS. Today, companies are able to offer their training resources to their external sales, franchisees, channels and also other customers. 
It is vital to identify the objectives of the organization and based on their needs LMS vendors cater to the different consumer groups.
Why do You Need to Invest in an LMS Development Solution?
LMS contributes to a company in various ways and it helps to offer optimal support for an implementation process for learning, knowledge sharing and training. The administrative load is also reduced and the relationships with employees also become stronger.
Here is why you need to invest in an LMS:
Employee Performance Training: 
Most LMSs help organization to track the performance of their employees and offer training. This is a great means to provide the employees with essential knowledge and it facilitates the setting of training needs per job function.
This allows the company to easily identify who actually needs relevant training and skill enhancements. Alongside this, managing the teams can be arranged by using only a few clicks.
With all these options to use, it becomes easy to ensure that your employees have the right skill and at the same time you can easily assess whether your employees meet the mandatory industry standards.
Are You Looking to Hire Moodle LMS Developers?
Moreover, employees too can benefit from the comprehensive system and be rest assured that an effective learning environment will help them reduce their stress levels which are associated with traditional learning.
More Control on the Learning Processes:
Each employee has their own personal development plan and from which the learning needs can be derived.
These needs can easily be translated into specific and personalized training. The benefits of creating such assignment is that it can easily be followed and suggestions and comments given.
Reminders and notifications can also be sent to the employees and this gives complete control of the learning process.
Evaluation of the Learning Efficiency:
Another most important thing that LMS development helps to do is to create reports, which help to track the success and progress of the training program. An LMS can be considered as the best tool that makes it possible to choose the desired level and format of training and the results can also be filtered by the training providers, departments or groups.
Also Read: What You should Look for in Your Moodle LMS Analytic Tools
It also makes possible to select the type of user and create any relevant certification. Specific functions also help to automate reporting and tracking of the learning efficiency so that nothing is done manually and the results at the same time help to demonstrate the success of the specific training and the progress of the employees.