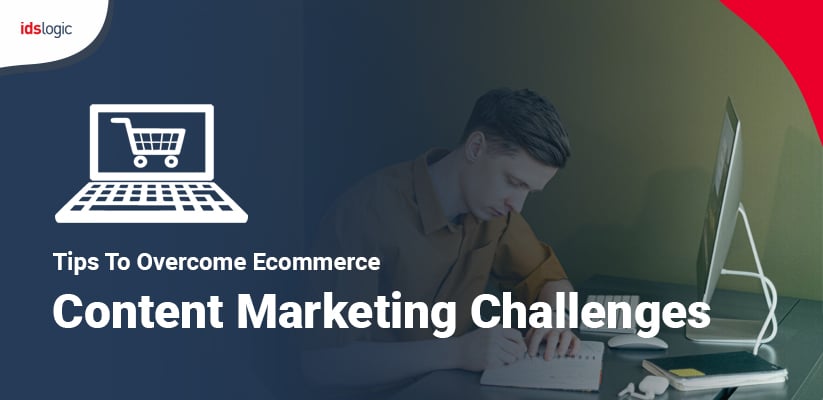 Tips to Overcome Ecommerce Content Marketing Challenges
We all know that "Content is King" and only about 9% of the marketers develop a systematic approach to the content. With the rise of ecommerce stores, marketers and publishers have to find out how to turn their products into digital information.
So, they started to create product descriptions and taglines which are supported by photos and videos and then list the objective data about the dimensions, colours, size, weight, price and so on.
Online shoppers often compare such data shared on various ecommerce stores and it is only after that they turn to the professional and customer reviews before taking the final decision.
The information that is provided helps the users to take a decision as they are unable to hold test or view the product before their eyes. So, the content that describes the product has to make the impossible task possible, which means that it should be highly compelling and interesting than your competitors.
But often the reality is that content which is present in Ecommerce website are not developed to satisfy every shopper in every situation. So what we can do is to give the best and create accurate, high quality product listing and produce content that is creative, and purposeful with a presentation.
Here is how we can overcome some of the content challenges of the ecommerce store and take it to the next level:
Create a Content Marketing Culture:
Most companies don't have a specific content marketing plan to create effective content that can help them to target specific audience and at the same time monitor the latest industry trends.
Content creators should understand their target audience and balance the search results with high quality content having specific keywords. This is only possible with an effective content plan that ensures proper creation and execution of effective content marketing plan.
Also Read: Tips to Keep Your Ecommerce Business Agile While it Scales
Repurpose Your Winning Hits:
Marketers often forget to find new users for their ecommerce product content they already have. Since there is no choice if the past content or images are hidden in people's desktop, it is very important to repurpose and organize the images in a single repository and find new life into the existing images.
Adopt a winning style or approach to repurpose your website content and hire a good copy writer who could use the template to replicate the best out of the best descriptions and give your ecommerce website a more consistent voice.
Are You Looking to Hire Dedicated Magento Developers?
Try Predicting the Future:
It is always very difficult to know what will come in the future when it comes to ecommerce development. But with the right plan and by following some latest market trends, you can easily understand what is happening and what might come up in the near future.
In simple words, the more research you do, the more you will improve in the future and this helps to optimise your site and keep making progress with your content marketing strategy. Once the content is developed, all you need to do is to promote your ecommerce product content.
Stop Using Product Data Spreadsheets and Folders:
Marketers often want to take a look at accurate product data and content. But with spreadsheets, which gets copied and pasted, there may be incorrect data without updates.
So instead of using spreadsheets start using a product information management or PIM or Digital asset management which can help you update product data and keep it safe from any unnecessary or accidental changes.
This will help the markets to get accurate data and promote the products based in the information gathered.
Also Read: The Benefits of Integrating CRM with Ecommerce Development Sites