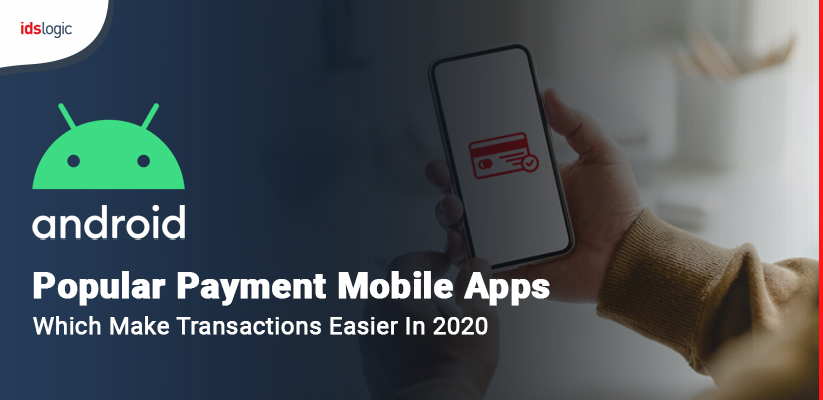 Popular Payment Mobile Apps which Make Transactions Easier in 2020
You must have visited a restaurant with your friends for dinner on your birthday and have felt how important it was to carry a mobile with a payment app to pay some extra bills when your budget has exceeded.
If you don't have enough cash in your wallet, you might get stuck anywhere because of payment related issues.
Thankfully, everyone has smartphones today and can easily download the payment apps in order to come out of such situations.
To make the customers feel comfortable when they purchase anything from a store is the key to business and it is through various mobile payment apps that consumers can easily transfer the cash between one another.
With increasing discussion about cashless economy, the ability to transfer funds from one account to another is becoming increasingly relevant.
Since you have numerous payment mobile apps in the marketplace it may be a difficult task to choose the best. Here is our guide:
Google Pay:
This payment mobile app allows you to send or request money and check the app even on the web and pay in stores by using your smartphone.
It can be easily connected with American Express, MasterCard, Visa Card, Discover and bank accounts. It can be used with the PayPal account also.
The app has been used by 100 million users and the transactions can easily be completed within minutes, but with certain banks it may take some extra time.
Apple Pay:
This is present in every iPhones on and after iPhone 6.
The app has new standards for iPhone application development companies and it is accepted as a mode of payment by in over millions of stores worldwide.
The transaction done by using this app one of the most secure ones as the purchases need fingerprint verification.
Though the integration with other system can be problematic, but it can be used if your customers are USA based and uses iOS.
Are You Looking to Hire Dedicated Mobile App Developers?
PayPal:
Making online payments using PayPal is the easiest and the most convenient mode of transactions.
All that the users need to do is to link the account with the phone and set the PIN and go ahead with the checkout process at an accepted payment terminal.
Google Pay:
Google too offers a mobile application to continue with online payments and send money.
It is unique in its integrations with other Google products which also include Gmail and you can send the money to anyone by using the email and the Google pay and Gmail.
If you have a Google account, you just need to sign up for Google Pay.
It is designed and easy to use and works with the dedicated Google Pay app or via any other integrated Google services.
Also Read: Important React Native Databases that Developers may Use in 2020 for Mobile App Development
Venmo:
This is actually owned by PayPal, but it is a very different app.
Venmo is an app designed specifically to send money to friends and so it has an embedded social aspect.
You can sign in and access your account and send money.
It is the first mobile app experience that is developed for use on the go while using smartphone devices.
This mobile payment app can be used to pay for transactions for any business and it is free to send money by using the debit card bank account.
Stripe:
This is a very popular mobile payment app with simple features so that merchants and customers can easily use it.
Users can easily perform one click purchases, subscriptions and make purchases even directly from the apps.
Their new API allows the purchases from Twitter feeds without exiting the Twitter account.
Another advantage of stripe is that it offers Atlas, which makes starting a global business simple and easy for the entrepreneurs.
Also Read: React Native and Flutter: Which One is Best for Your Business?