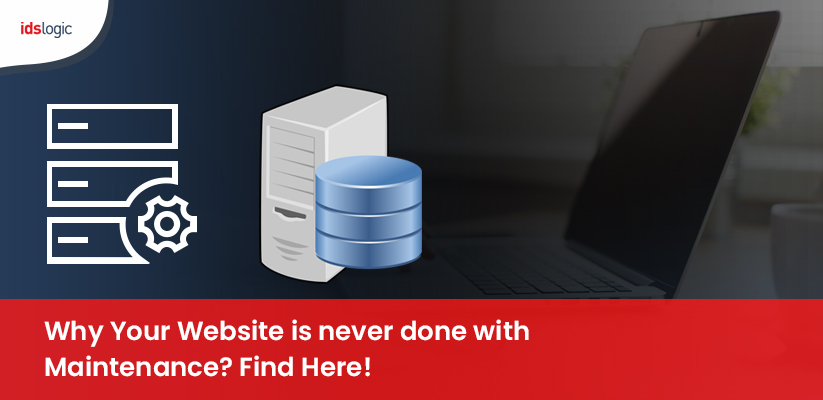 Why Your Website is never done with Maintenance? Find Here!
Building a website requires a lot of hard work and time. You need to collaborate with the web development team to plan, design, develop, create content, and test for the functionality. After all these efforts, an alluring website finally becomes live.
And, then you are all done- isn't it right? Well, you are wrong.
Since your website is a functional and evolving entity, it needs to be updated regularly to get the best returns on an investment. To put it simply, your website is never done with the maintenance part.
Overlooking the web maintenance can lead to different sorts of conundrums.
An Outdated Design can cost You Business
A website is the first point of contact for organizations with the prospective clients. This rule is not only applicable to ecommerce; people use the web to search for almost everything. If your website is outdated, then people will start doubting your quality of service.
Firstly, you should ask yourself when you have built your website. If it's two or three years old, or does not get a design refresh, then it calls for the update. This does not imply that you have to redesign everything on your website. But, it would be great to provide a new look to your home page. You can change the look and feel of your header and footer section, menus, and templates. This will work wonders in enhancing the design of your page.
Also Read: How Website Maintenance can Protect a Site Against Hacks
Content has to be Fresh and Relevant
Having an outdated content on your website indicates that you don't care out your web presence. If you haven't posted any article or a blog for quite a while now, then now is the time to do so. Keeping the website updated with the fresh and relevant content is necessary because:
Google favors those websites which put new content regularly. It will provide better indexing on search engines which is better for gaining more online visibility. Additionally, if your content is good and informative, other businesses will link back for sure and genuine links to your content improves the credibility of your website on search engines.
Encourages Repeat Visits of the People
Adding new and interesting content on your website regularly increases the inquisitiveness of the people to know more about your services. They will definitely come back to check what you have posted next on your website.
User Habits are Consistently Evolving
The internet users expect for a remarkable online user experience from a website. It is important for the website owners to match those standards. A buggy functionality is quite intimidating, which turns off the visitors. Broken links and poor navigation lead to a bad user experience. So, make sure that your website is free from all those bugs and renders a seamless user experience throughout.
Also Read: How to Make the Most Out of Your Website Maintenance Services
It is important to understand their needs first and cater them exactly what they are looking for through your flawless and stunning website.
So, if you haven't paid attention towards the website management for longer, we recommend you to start it now to reap effective outcomes in the long haul.