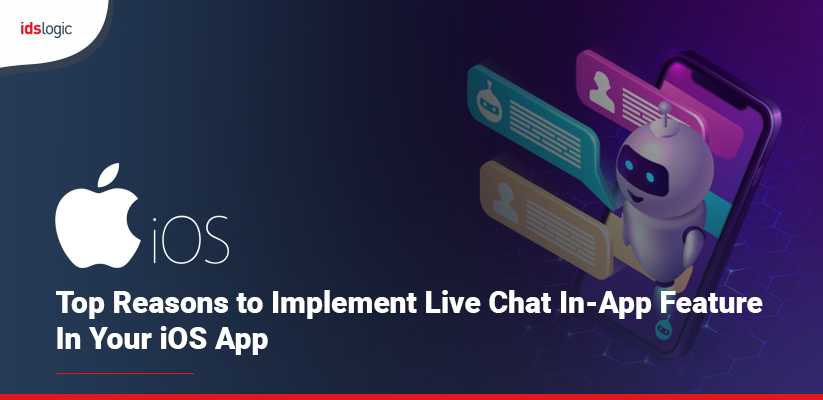 Top Reasons to Implement Live Chat In-App Feature in your iOS App
At present, there are millions of iOS apps in the Apple App Store that are giving a tough fight to each other in terms of features and functionality. It becomes extremely challenging to make your presence noticed in this competitive environment.
To get a winning advantage over your competitors, you need to integrate Live Chat In-App feature within your iOS app. This is an online communication tool which helps to communicate with the customers in real-time, and helps in resolving their queries faster. You can look for the iOS app development company that can help in the successful implementation.
"As per the survey, it has been found that customer satisfaction rate through mobile live chat is higher as compared to other channels". This clearly indicates how live chat feature is helpful in creating an impact amongst your target niche.
Here are a few benefits of Live Chat In-App feature in your iOS app:
Resolves Queries Faster
One of the biggest benefits of the Live Chat feature within your iOS app is that it resolves the queries of the customers speedily. The support agents are always present to assist them and response in no time. With such a short response time, it becomes imperative to include this feature in your app.
Impeccable User Experience
Nowadays, the customers expect an amazing user experience from the apps they're utilizing. A highly personalized experience is utmost important to win their attention. With the help of live chat feature, it becomes easy to gain insights about the customer's buying behavior and preferences, and provide them shopping recommendations accordingly.
Are You Looking to Hire Dedicated Mobile App Developers?
Better Conversion Rate
This is another reason why your iOS app should include the in-app live chat functionality. When customers will get an apt solution towards their raise query on time, it will lead to a higher customer satisfaction rate. This maximizes your chances to convert them into loyal customers and convincing them to purchase your products.
Also Read: Effective Tips to Get Approval of Your iOS App on the App Store
Enhanced Marketing
Integrating live chat in an iOS app can aid the app owners to connect with the users in a better way by asking their shopping preferences. This will help them to pitch their products and services amongst their target niche and encourage them to choose your brand over others.
In short, a Live chat support in an iOS app helps in delivering a personalized experience to the users by solving their queries faster. If you have plans to integrate this feature in your app, then hire iOS developers who have expertise in doing this task with an efficacy.