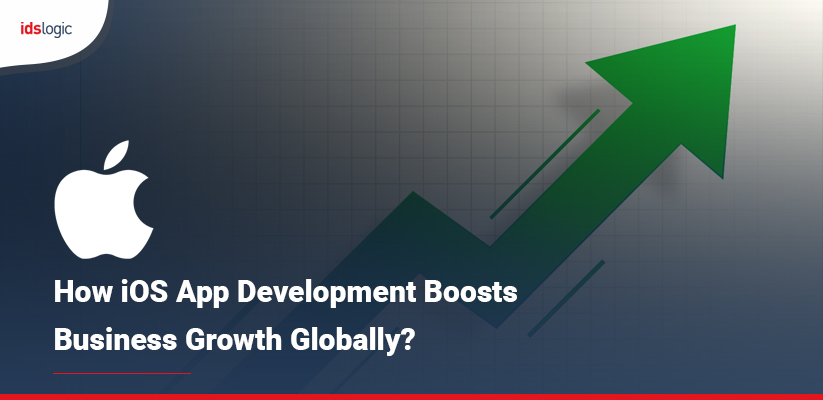 How iOS App Development Boosts Business Growth Globally?
Nowadays, mobile apps have become an indispensable part of the human beings. There are millions of apps as well as the users in the app marketplace, and iOS apps holds a great share over there. To attain a prominence in the global market within a short span of time, it is suggested to invest in iPhone app development.
Building a secure and high-performing iOS app will not only increase brand recognition, but also helps in converting your prospects into loyal customers. Earlier, people consider iPhone as a product that is far from their reach due to its exorbitant price. Now, the things have totally changed as they have extended their spending power to purchase it.
A part from that, the popularity of iOS is soaring high in the developed nations like USA. When you have an app built on this platform, you can easily extend your business reach, and drive quality traffic to your app.  
Benefits of iOS App Development
Here, in this blog, we have pointed out the main reasons to choose iOS platform for building apps to grow your business on a global scale. Let's take a closer look at them:
Apple has good credibility
Apple brand needs no introduction. It has established a strong foothold in the mobile industry with its unwavering device quality. In addition to this, it is also appreciated for its excellent security and technical support.
Therefore, having an iPhone app for your business will prove effective in uplifting your market reputation on an international level.
Are You Looking to Hire Dedicated Mobile App Developers?
Provides Rock-solid Security
Security is always the topmost concern of the app users. iOS platform is best-known for its superior level of security, and choosing for this platform will provide protection against malwares, viruses, etc.
If you actually want to invest in an app that is made to deliver higher level of security, then iOS will be the right platform to suit your purpose very well.
Also Read: Swift vs Dart: Which One is Best for iOS App Development?
Better UI/UX
With iOS platform, you can expect UI/UX that is both superb and mesmerizing. When your app will have that quality, you don't have to put much efforts in winning the attention of your target users. More and more people will install your app on their iOS devices.
This in turn will give a boost to the engagement rate and sales performance, which all business owners want at the end.
If you have a winning iOS app idea in mind, then you should approach a trusted iOS app development company. They have the right expertise to shape your thoughts into reality. Just go through online reviews and ratings to get a gist of their past working record. This will aid you in making a meaningful decision.