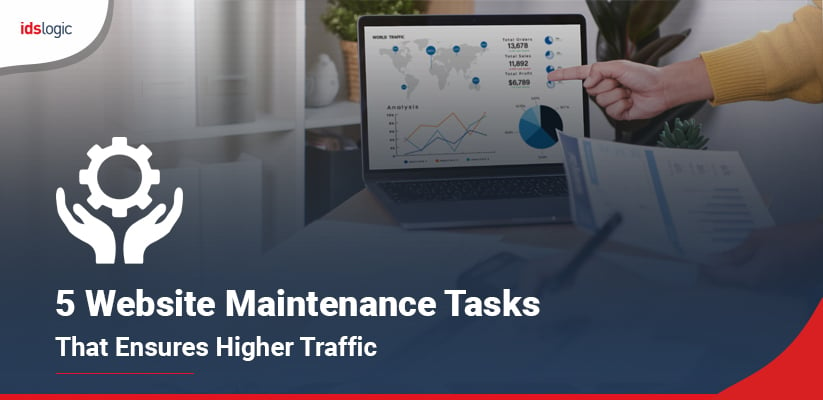 5 Website Maintenance Tasks that Ensures Higher Traffic
In the digital landscape, the competition is increasing day-by-day. A new website gets launched regularly that contains out-of-the-box features to take the user experience to the next level. But, if it is left unattended for a long time, it will not deliver superior performance to the users. Its great features will be of no use when it is not well maintained.
Regular website maintenance is essential to ensure that your website runs seamlessly. This will help you in uplifting your brand presence in the online marketplace. You can acquire more customers for your business and retain your existing one, which is the ultimate objective of any business.
Important Website Maintenance Tasks for Improved Traffic
There are certain website maintenance tasks that should be your topmost priority. It will not only improve your website's performance, but also increase your market credibility.
Here are the important website maintenance tasks that aids in driving traffic:
Keep Your Website Updated
Having a website with great design can attract the attention of your prospects in the first hand, but it will not guarantee that they will stay on your website for long. If your website is regularly updated as per the latest trends, your visitors will open your website again and again. It will give them the reason to convert into your loyal customers.
Add Fresh Content
Content plays a major role in driving the attention of your potential customers. Make sure that you update your website content on a regular basis. It has to be original and engaging that compels them to initiate an action on your website (subscribe, purchase, etc.). You need to maintain consistency in posting blogs and articles in your knowledgebase section.
Also Read: How Website Maintenance Will Help you in Achieving Your Digital Marketing Goals?
Conduct Deep Testing
Website testing is the best practice of uncovering ways to enhance the functionality and user experience. You can make the necessary updates that will make your website to deliver flawless performance. With regular testing, you can easily find out whether your website is functioning as intended.
Perform SEO Optimization
There is no point of having a website that your potential customers can't find it online. It is imperative to optimize your website as per the search engines to gain maximum visibility and traffic. With the right use of meta descriptions, titles, alt text, and keywords on your website, you can boost your SERP results.
Also Read: Important Things to Consider Whilst Choosing a Website Maintenance Company
Check Website Performance
Reviewing your website for its performance is also an unmissable task that is covered under its maintenance. There are many tools available online that will provide you valuable insights about your site's overall performance. Google Analytics is amongst them that you can use for this purpose.
If you want your website to deliver high-grade performance, then it is suggested to look for the reputed website maintenance service. They have years of experience in this domain that will be a plus point for your website in ensuring its superior performance. Just perform a detailed research on the web to get the effective search results faster.