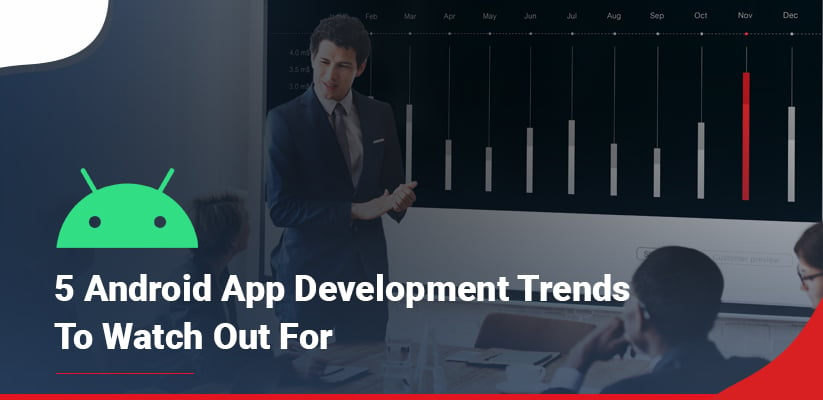 5 Android App Development Trends to Watch Out For
There is no doubt that Android is a leading mobile app development platform all across the globe. As per the Statista, Android users will have the option to choose between 3.48 million apps by the end of 2021. This number clearly shows the craze of the users for this platform.
Android app industry is making a remarkable progress with every passing year to take the user experience to the next level. Android app development services in India are maintaining a constant pace with the latest innovations in this field, and implementing them effectively during the development process.
"Entrepreneurs who have a full-fledged Android app are advised to keep a close tab on the latest trends to stay ahead in the tech curve".
Here are the popular Android app development trends that will dominate this year:
Growing Popularity of Android Instant Apps
Android instant apps leverage the users to utilize the app without needing to fully install on your mobile devices. With such apps, a lot of advantages comes that includes multi-device compatibility, reduced storage space, and excellent user experience.
Rise of Blockchain Technology
The Blockchain technology has created quite a buzz in the Android app development industry. You can implement advanced security protocols in the financial segments that includes currency exchanges, banks, etc., using this technology during the development process.
Integration of Google Assistant
Google Assistant has become highly popular these days. It is expected that this technology will get integrated by majority of the app owners in the future. With this functionality, it becomes convenient to control multiple devices such as Google Home, phone, AC units, and lots more using Google Assistant.
Cross-Platform Development Using Flutter
Flutter has been launched by Google in 2017 that has been utilized by the Android developers to create robust apps using a single codebase. This cross-platform framework is easy to understand, and has a native app design.
Emergence of Internet of Things (IoT)
Owing to the rise of Internet of Things, it has allowed the users to connect with the world via smart devices without any hassle. With IoT-enabled apps, businesses can achieve their objectives at an optimum level.  
If you've a winning app idea in mind, it is best to approach a leading Android app development company in India. They have the top resources to transform your vision into reality with faster turnaround time.
Also Read: How Android App Development Has Reshaped the M-Commerce Industry?