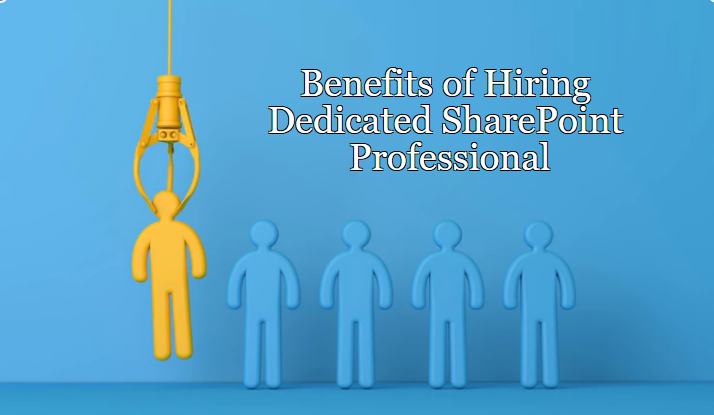 Top Benefits of Hiring a SharePoint Consultant for Your Organization
SharePoint is considered as the powerful collaboration tool for the organizations. Its extensive feature set makes it the desirable option for enhancing the operational excellence. The document management is amongst them that has helped them in organizing the documents in a systematic way. This has made the file search simpler for the employees, thus, saving time and driving productivity.
If you haven't leveraged the potential of SharePoint yet, then it is strongly recommended to get it deployed now. You can take assistance from the SharePoint consultant to get valuable suggestions that aligns with your business interests. Apart from that, you will reap other benefits as well that have been discussed here. Just take a look at them:
Timely Updates
SharePoint is a technology that is constantly upgrading. It is impossible for the organizations to maintain a pace with the latest updates and development. To stay competitive in the market, you can't overlook this thing. Therefore, hiring consultants will be the right option as they will upgrade your SharePoint to the latest version and, make your organization evolve in the right way.
Read More-Effective Reasons to Hire the Best SharePoint Developers in 2022
Reduces Training Time
Employees carry the baggage of lots of responsibilities on a day-to-day-basis. When they've to attend vigorous training sessions for SharePoint, they will be pulled away from their work. This will negatively impact the business operations. The best you should do is appoint a trusted SharePoint consulting company that will offer fast and efficient training on this tool. Thus, resulting in the reduction of the training time to a great extent.
Builds Custom Workflows
By hiring SharePoint consultants, you will get the highly customized workflows for your organization that will aid your staff to collaborate and communicate without any hassle. It will become quite annoying to monitor SharePoint sites for any update on the project. A consultant will create a workflow that will send alerts to the users for any news on the project.
Better ROI
SharePoint is considered as a valuable investment for the organization that drives improved return on investment. When you will hire consultants, they will greatly decrease the deployment cost and render fruitful outcomes. They will look for every possible way to save your ample money.
Encourages User Adoption
There is no point of deploying SharePoint tool when your workforce doesn't have prior knowledge of utilizing it. It will prove ineffective if they are not versed with features and functionality of this tool. This is why hiring SharePoint consultants will be a good idea. They can resolve all their queries related to this tool, and provide them the required training for the smooth functioning of this tool. In turn, it will increase the adoption rate of SharePoint within the workspace.