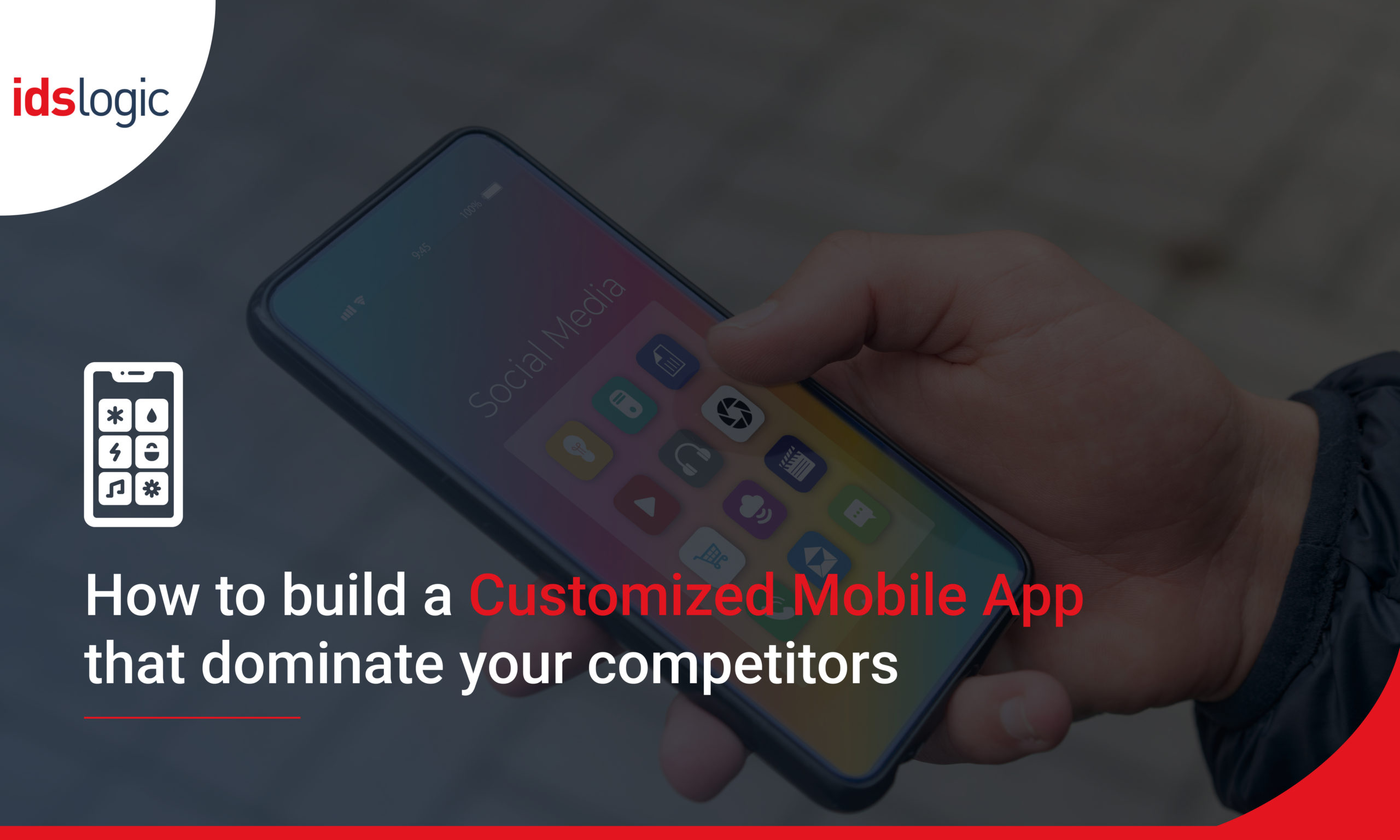 How Customized Mobile App Can Dominate your Competitors?
Planning to build a custom mobile app for your business? You're going in the right direction! It's one of the powerful ways to build credibility that differentiates you from the competition. Such app is specifically tailored to business needs and fill gaps in the existing IT solution. Read this article to understand what role does a customized mobile app plays in business success.
So, without delaying further, let's get started.  
Mobile app is the lifeline of a business. From startups to big brands, they're greatly benefitting from its adoption in their business operations. Simplicity, reliability, and security are topmost reasons for their growing inclination towards mobile app.
No matter how latest or old your business is, a mobile app is an absolute necessity to stand out from the rest. It helps to grow customer base quickly, nurtures healthy relationships, and creates a goodwill in the market.
In a nutshell, custom apps are great for businesses to stay ahead of competitors and rule the market. And that's why more business owners are rooting for custom app development on seeing a staggering boost in sales and profit margins.  
Custom Mobile App Development Market Statistic Insight
Here are some numbers to give you an indication of the growth of custom mobile app development market in coming years.
As per recent research, the global custom app development market is poised to grow by $38.15 billion during 2022-2026.
This shows that more businesses will invest their time and money in custom apps. It has a promising future ahead that can propel business growth.
Your custom mobile app can help your business from day one in the following ways:
Fetching quality leads and traffic

Increasing sales and revenue

Creating brand awareness

Round-the-clock marketing
Above reasons are enough to encourage businesses to convert their custom app idea into reality and gain traction. You can easily beat your competition.
A Dive into Best Benefits of Custom Mobile Application Development
Building custom apps is becoming increasingly important for businesses to survive the fierce competition and boost their regular operations to drive customer satisfaction. If you're thinking of having a custom app sooner or later, it can benefit your business in more ways than one.  
Keep reading to discover the incredible benefits of custom mobile application development!
#1 Wider audience reach
One of the greatest benefits of custom app is that it helps businesses to reach out to a larger audience base. It can attract maximum eyeballs that can increase your app downloads and sales. Your products and services can get more recognition and maximize your market value in return.
#2 Improved business accessibility
Another benefit of custom mobile apps is that it offers ease of access to customers. You can be easily contacted at any hour and provide prompt support to them for a higher satisfaction rate. You can close sales deals by responding to sales related inquiries.
#3 Provides top-notch security
Mobile app security is utmost important for any business. That's why the custom app is better than an off-the-shelf app as far as data safety is concerned. It will have robust security features in place that will make your data leak-proof. Your customers can freely share their business information and prospects can be converted into buyers owing to superior protection.
#4 Sets your mobile app apart
With unique mobile app features, you can set your business distinct. You can get a winning advantage over your competitors by focusing on your customer's requirements. It can aid in retaining existing customers and acquiring the new ones. You can experience a significant rise in sales and revenue with your app's exclusivity.
#5 Enhances customer service
Having a custom app means you've a complete customer database maintained from the start. You know about their basic details, search and buying history, and future buying preferences. It becomes convenient to suggest them products they might be interested to purchase, offer special prices and discounts, and solve their queries faster. This can improve your customer service experience.
What Things Can Make Your Custom Mobile App Extra Special?
There are certain features that can make your mobile app extra special. Read on to learn more.
User-friendliness– Make it easy for customers to operate your app without any difficulty.
Quick load time– Your app should load faster to deliver an impeccable user experience.
Integrated in-app payment- Allow customers to pay using Google Pay, PayPal, and other secure and faster payment methods.
Live chat support–  Integrating this feature leverages your business to offer a speedy solution in real-time to customers' queries.
Conclusion
Every business wants enormous sales! Investing in custom app development can attain your sales goal faster. Whether you've a small business startup or a big enterprise, it's non-negotiable to have an app that focuses on the needs of end-users. Speak to a trusted technology partner to convert your vision into reality at a competent price.