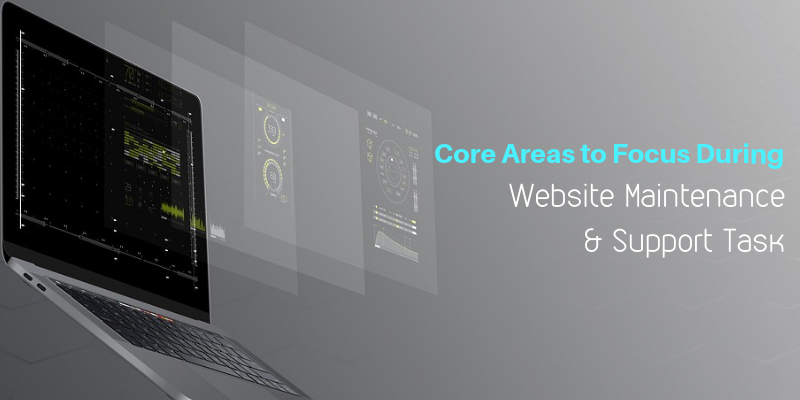 Core Areas to Focus During Your Website Maintenance and Support Task
Ongoing maintenance of your site is needed to keep it up-to-date or to keep the application secure. Not only this, it will also help to accommodate the changing environment needs and meet the demands of your customers. Continuous improvements and a regular series of tasks should always be a part of your website to keep it from becoming ineffective and obsolete.
Here we have listed some of the most essential areas where you should focus during your website maintenance and support.
CMS and Functionalities:
If your website is built on a CMS, then it is highly important to update it at regular intervals for patches and security updates.
In case you have not implemented a maintenance plan, then the security patches will be overlooked and your site can easily become vulnerable to unauthorized access and cyber-attacks.
If you are the owner of the site, then it is your responsibility to subscribe to your software provider and be aware of any latest patches or releases, so that you can take an action to update when necessary.
---
Design:
The look and feel of your site says a lot about your organization. An outdated site can make your business seem out of touch.
A regular maintenance and support service will help you to routinely review your website's design and even review your competitor's sites for latest design trends and enhancements that could benefit your site's appearance.
This may include small design changes that can make a big impact to modernize your website's appearance. So, review your web design every couple of months and schedule for a complete makeover every 2 to 3 years.
Also Read: Important Things to Consider Whilst Choosing a Website Maintenance Company
---
Search Engine Optimization:
At regular intervals, Google changes its algorithm without any announcements and based on the needs of the algorithm, you will also have to diligently fine tune your site so that it is well optimized.
To attain a higher ranking in the search engines, ensure that you review your keywords and verify the results and also look for various ways to improve your ranking.
You should have a clear understanding of Google analytics and also know more about the trends and activities that will generate high quality click-through to your site.
---
Code and Browser Compatibility:
Your site will appear very unprofessional if it is broken with errors.  Your site may be initially error free, but with new browsers, this may not be so. Browser testing is highly essential with every new release and a good tool should be used to check all the errors. Make your site accessible with AODA compliance.
This will help to improve the usability and will also make your site visible to a large number of audience. Checking the performance of the site will also help to increase the site load speed and also sort issues that can be resolved by the web developer.
Also Read: What's All Are Included in Website Support & Maintenance? Find Here
---
Servers and Web Hosting Infrastructure:
The web hosting infrastructure should be well maintained and this is actually done by the web hosting service provider and it depends on your particular configuration.
In case you run your own virtual cloud server, then it is your responsibility to manage the tasks, install the operating system patches and also update your site while keeping automated backups. So, make sure that your web maintenance and support plan includes the web hosting environment so that you have some peace of mind.