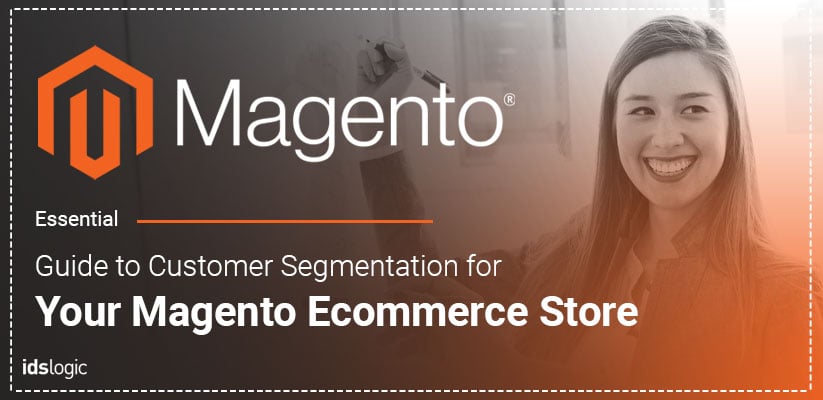 Essential Guide to Customer Segmentation for Your Magento Ecommerce Store
Imagine that you have ordered Pizza for your friends.  Now, it can be served to you in different ways, the way you prefer to have it: in a box, on a plate or a tray, as a platter or in pieces.
These different means of presenting something as per the needs of the customer are actually done by categorizing the customers into smaller groups that have something or the other in common.
"Segmenting and being relevant and responding adequately to the customer's actions is the base of personalized marketing."
Personalized marketing also applies to Magento Ecommerce stores where the aim is to target desired customers and offer them services that they are actually looking for.
But most merchants often believe that mass marketing will bring them more sales and customers, but the fact is that it is a costly, unproductive and time consuming approach to deal with.
Using the concepts of customer segmentation and targeting relevant customers in the digital sphere for your Magento store is beneficial.
What is Customer Segmentation in Ecommerce?
"Customer segmentation is a powerful marketing tool that allows the company to divide their online store visitors into groups and then develop a highly focused marketing approach towards each group."
The tool allows you to develop a deeper understanding of the customers and then discover the facts that makes them tick.
When your Magento development partner implements customer segmentation, it helps to arrange your visitors into distinct sub-groups, to whom relevant marketing messages can be sent.
The result is often a better response rate to such communications.
---
How Much Time do You Spend Each Month on Ecommerce Segmentation Marketing?
Once you have started your Magento Ecommerce store, you may have successfully convinced some hundreds of people to purchase your products or services.
However, the truth is that most store owners don't even have a clear understanding of who their customers are and how they can market to them effectively.
Let's Share Some Facts Here:
A customer segmentation survey was conducted by Receiptful for 252 ecommerce store owners and 73% respondents stated that they never used customer segmentation in their business.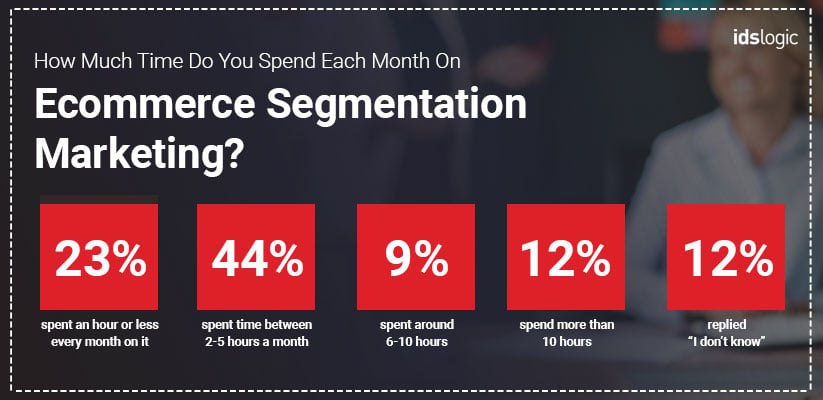 Now the remaining 27% who used this marketing means had different ways of using it.
23% spent an hour or less every month on it

44% spent time between 2-5 hours a month

9% spent around 6-10 hours

12% spend more than 10 hours

12% replied "I don't know".
"For many Magento ecommerce entrepreneurs, consumer segmentation is often an afterthought.  But studies have revealed that even a small attempt can have a great impact on your marketing performance and sales."
When Lenevo, the computing giant realized that more than 40% of their online audience included new and unknown visitors, the company decided to partner with the analytics firm Neustar to consider segmentation of its visitors into different categories.
The result was that order conversions grew by 40% and the average revenue per visitors increased by 25%.
Did You Know: Emails with personalized subject lines are 26% more likely to be viewed by customers?
---
Here are the Basic Segmentation Factors that will Help You to Categorize Your Visitors:
Now that you are aware of some real statistics, you must be thinking to implement it in your Magento store. So, where to start with it?
Do you know how to filter your customers or identify them based on the categories? Here is a list:
Demographic: This helps to divide the customers based on the variables like gender, age, family size, religion, income, occupation, marital status, nationality and etc.
---
Geographic: You can divide your visitors based on the locations and other factors that includes: by city, state, country, population density, and on climate or region of any country.
---
Behavioral: You can group your buyers in the store based on their mutual buying behavior patterns that include page views, product benefits sought, previous purchase, shipping or payment methods and etc.
---
Lifestyle:  Your Magento development partner can also help to divide the visitors based on recreation and entertainment activities, cultural practices, community or social values.
---
High Spenders: Every online shop has some customers who spend a lot more than the average. You can categorize them as high spenders as they help in making better profits than others.
Magento development companies that identify the unmet customer needs can outperform the competition by developing appealing products and services and extract maximum value from both low and high profit customers.
---
Why is Segmentation so Important for Magento Ecommerce Store Owners?
Even a few years back, online store owners often focused their marketing efforts around appealing to the average buyers and in attracting large numbers of site visitors to their stores as much as possible.
But now customers are becoming more and more sophisticated in their shopping choices and the one size fits all marketing approach is no more effective.
Targeting the wrong customer will not only cost you more, but will also reduce the conversion rates, order values and profit margins. And targeting the right buyers with segmentation will help to:
Improve ranking in the market

Build brand identity

Retain more customers

Better customer relationships

Word of mouth advertising

Develop channels of distribution
Magento Extensions that will Rock Your Ecommerce World
---
What You Will Discover in You Magento Ecommerce Business with Customer Segmentation?
Expert Magento development companies in the U.K or India can help you with clear statistics about segmentation and its benefits. Their expertise in Magento ecommerce often helps to adopt the best approach that leads to growing market opportunities.
In case you are still not satisfied with the advantages that buyer segmentation offers, here are some more insights from Magento experts that will help you in your business.
Related Blog: Secret Tips to Optimize Magento Conversion Strategies to Boost Ecommerce Sales
A thorough analysis of who your potential buyers are, will help you identify common themes among distinct segments. Here is what you will discover:
Upsell Opportunities:
Magento integration with customer segmentation module helps to reveal the patterns in individual purchasing behavior. This helps to observe the latest trends that apply to multiple visitors.
And as a store owner, this is a great opportunity to upsell those shoppers having similar choice.
Identify Products that are Bad for Business:
If you have better data that describes your consumers, you will find that there are some useless products which are bad for your business.
For example,
"Selling poor quality products may attract the wrong type of customers who may never return for repeat purchases."
This will help you to discontinue selling some products that are not very profitable and reallocate the resources.
Recognize Old and Inactive Customers:
It often takes a lot of effort to acquire a new sale than to retain an existing one. Store owners don't give much attention to idle or inactive buyer.
But repeat purchasers often are most profitable for business owners. Unfortunately, inactive or repeat shoppers don't top to the store owner's priority list.

Reactivating them can easily be your biggest growth opportunities, since they have already liked your business and have used your product.
---
External Sources that You should Use to Collect Consumer Data for Your Magento Store
The more information that you gather about your customers, the more efficiently you will be able to meet their specific needs.
Besides the transaction database there are a few external sources that can help you to collect some important data about your customers.
Census Data:
Doing a little bit of extra research can help you collect a wide range of important demographic information regarding your Magento store visitors.
Also Read: Migrating from Magento 1 To Magento 2? Know How to Boost Your Web Performance
Using some tools can help you access the statistics for a particular area, their income level, ethnicity and etc.
Surveys and market research:
Conducting independent market research or doing a survey about your shoppers can help to collect richer data like: buyer's lifestyles, activities, shopping preferences, attitudes and etc.
Web Analytics:
Our Magento experts operating from India and the U.K can help you with web analytics that provide the retail site owners with data about the device used to access the site, customer's geo location, number of times they have visited the site and etc.
Data service providers can offer their clients a wide range of information about the customers based on their email addresses.
Cookies:
You can also use cookies to track your visitor's behavior as they shop from your store and collect some important information about the customers.
Cookies help to collect data related to browsing history, age, page views, education and etc.
Browsing Devices:
Another important way to collect useful consumer data is by detecting the browsing device that is used to access your Magento ecommerce site. Earlier, visitors used to access the site from their desktop or laptops, but today they are accessing through mobile devices and tablets.
---
How to Keep Consumer Segmentation Fresh for Your Magento Store?
It is very important to review and refine your consumer segments regularly because their behavior, perceptions and needs may change from time to time. To update and expand your customer data, you should:
Avoid Adding Individual Visitors to More than a Segment: Customers who get personalized marketing messages often lead to positive experiences. But bombarding them with multiple offers because of overlapping segments can often lead to disengagement and poor satisfaction.
---
Find Opportunities to Tailor Your Product, Services and Offers: The more you meet specific consumer needs with proper anticipation, the more you will have referrals and repeat customers.
---
Each Segment Should Have Clearly Defined Preferences: This will help you in planning sales volume and in marketing products or services based on preferences. This also helps to customize the products and offer the best shopping experience to the buyers.

---
Maximize Your Consumer Segmentation Success with Magento Ecommerce:
Having powered more than 250,000 businesses globally, Magento ecommerce is a leading platform that empowers merchants to successfully personalize the shopping experience of the buyers.
Are You Looking for Magento Development Solutions?
Its powerful features let you group your visitors and contribute to overall sales and profits.
We at IDS Logic have more than 11 years of experience in working with various Magento clients and have successfully delivered their projects on time. Whatever be your needs, we can help you grow and scale with confidence.
---