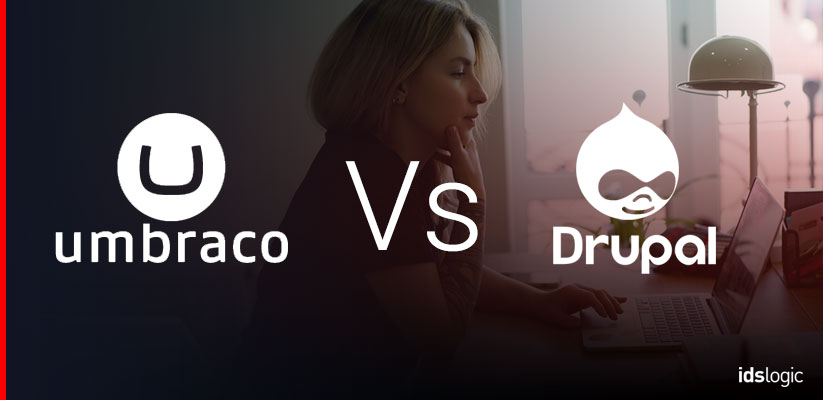 Drupal 8 vs Umbraco: A Comparison Based On The CMS Features
Keeping your website updated as per the latest technology is imperative for the success of your business. And who doesn't want to build a consistent success graph around various marketing operations.
If you are looking to upgrade your website, then choosing a rich Content Management System is very important. And the choice of your CMS has a lot to do with the complete execution of a successful marketing strategy.
Comparison between Drupal 8 and Umbraco
While making your choice, there comes a lot of aspects that you need to consider. Today, we have two most popular CMSs Drupal and Umbraco   for a comparison.  Let's see, which one can serve your needs in a better manner.
Considering the Market Share:
Built on the PHP programming language, Drupal CMS is designed to manage, update and publish content on website portals. It is used by both mid and large level enterprises so that they can manage their activities online effectively.
Today, Drupal has more than 4.6% market share and that is about 965,000 websites that are powered by Drupal.
Compared to Drupal CMS development, Umbraco is still far behind Drupal in all market share. In fact, it hasn't got a lead over Drupal in categories of websites.  
---
 What About the Cost?
Drupal is an open source software, which is free to use, distribute and re-use. Even the modules or add-ons are also free. Since it is distributed under the terms of General Public License, there are no licensing fees and it will always remain free.
Similarly, Umbraco is also an open source software that is built on the Microsoft .NET framework.  It is also completely free and the add-ons range both from free to a licensing fee either per server, per domain or a lifetime license.
Also Read: How Drupal 8 Helps Startups Attain Business Goals

---
 Navigation and Accessibility:
To remain successful in business, it is crucial not to miss any potential customer even by ignorance. Drupal 8 offers the web accessibility out of the box and you can easily mark the content regions with HTML6 semantic markup.
The navigation is also very simply by identifying the banners, content areas, menus and Drupal 8 CMS development easily adapt to different screen widths and this makes it easier for people to use the site from any device
Umbraco also provides great accessibility features, but they are options. Since accessibility should always be a part of the general web development, Drupal wins here!
Are You Looking to Hire Dedicated Drupal Developer?
---
Content Creation and Management:
Content is the king of any online business and starting from writing content to publishing it and managing it, has to be very streamlined. And this is the reason why your CMS has to offer the right kind of editing experience.
Creating content with Drupal CMS is very easy as it offers the WYSIWYG features and the preview and drag and drop image upload option.
Drupal is also available in more than 100 languages and so you are not limited by any geographic location. The editing interface is clean and in case you need to make changes, you can use the drag and drop UI.
In Umbraco, editing and rearranging content is easy and this ensures that the visitors get to see what they actually want to see. Another important thing about Umbraco development is that the editor helps you to always rollback to any previous version.
When it comes to content handling Umbraco wins as it offers better features and options to schedule the content.