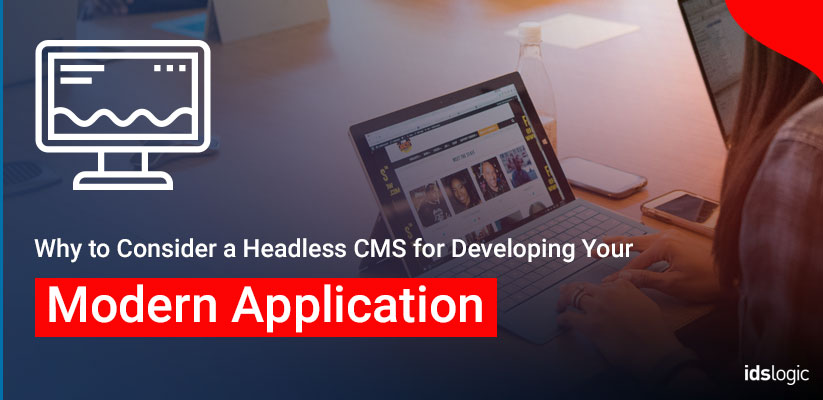 Why to Consider a Headless CMS for Developing Your Modern Application
With technological development taking place every now and then, it is predicted that by the year 2022 our offices and homes will have more than 40 million IoT devices, which includes AI enabled devices, smart speakers and etc. Internet will play a major role and all the content in it will have a great influence on society, our life via various devices, speakers, touchpoints and screens.
Brands that are looking to retain customer attention, for them, such an environment is both a challenge and an opportunity.
A majority of the enterprise having an online presence, use a content management system in some way or the other.
But unfortunately, traditional CMS development has failed to meet the user needs in various ways like offering the desired flexibility regarding the delivery of the content to an existing channel or integrating any new delivery formats.
Now the questions that brands will ask is:  How can we present our web content in front of the audience at the right time and through the best devices, when there are many variables available? How can we scale out content marketing strategies to cover more channels and touchpoints?
Understanding the Headless CMS:
Before we delve deeper, let's take a quick recap on what a headless CMS is. A headless CMS is more or less like a traditional CMS, but it is without any way to present the content that is created and stored in it.  It allows the creation, updating, reading and deleting the content.
Also Read: Sitefinity: The Headless CMS Is Gaining Popularity
To deliver the content, brands can now use any front end tool that they want, and deliver the content beyond any apps and websites and reach any channels easily. From the technical point of view, headless CMS used the API calls to render content into the webpage. It does not require any hosts and so developers prefer to use a headless CMS over others as it is very easy to maintain.
Why should You Choose a Headless CMS for Your Business?
Immense flexibility: 
Transitional CMS can be very frustrating because of its certain limitations. It is by using a headless CMS that you can design your front end. Moreover, it also comes with a well-defined API that allocates more time to create web content rather than invest time in managing it.
---
Secured:
Headless CMS offers a highly secured environment as the content publishing environment is not easily accessible from the database and using this also prevents malware attacks.
---
Compatible
:
A CMS that is headless allows you to publish the content to any smart device. At the same time the backend can also be easily controlled from one device and this makes the controlling task easier for the administrators.
Also Read: How We Help to Leverage the Best CMS Platform to Personalize Your Customer Journey
---
Scalable: 
Since both the backend and the front end are separated, there is no separate time that is invested in maintenance.  This enables you to easily customize the website without having to compromise on the performance of the site.
---
Complete Control: 
Headless CMS doesn't have any specific rules and regulations and gives complete control to the developers. They are able to integrate with any code base and also use any preferred language according to their choice.
To conclude, the rush to meet the requirements of the brands looking to attract and satisfy the consumers has in fact created a buzz around the headless CMS work.  Startups and small business organizations can take the headless plunge with confidence.
We at IDS Logic have been catering to various CMS development needs of many industrial sectors and we have complete knowledge and expertise in many CMS technologies.
Also Read: Important Questions That You Should Ask Your CMS Development and Integration Partner