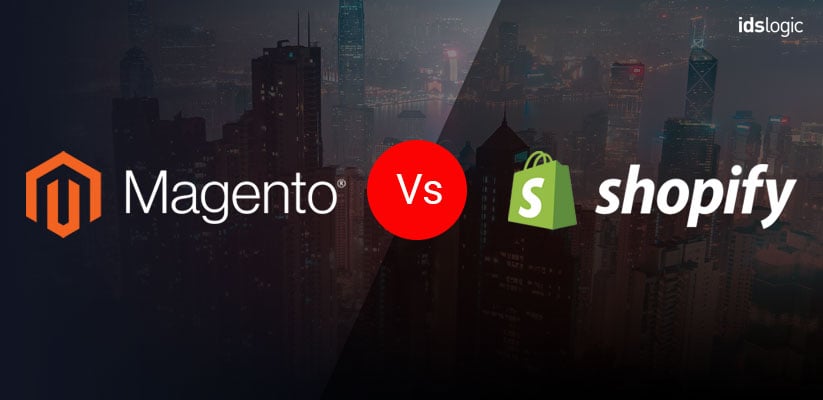 Magento vs Shopify: A Detailed Comparison Guide
Selling products online has never been easy, but if you want to make your online business successful, the first thing that you should be doing is to choose the best platform for your store. There are a large number of ecommerce platforms available, but not all of them can fulfil your requirements.
So, in this blog, we will be discussing about the major ecommerce platforms- Magento and Shopify that run approximately one third of all the ecommerce websites worldwide.
In this guide, we will be comparing Magento and Shopify based on 5 key factors that you need to consider when choosing an ecommerce platform for your online store.
Magento vs Shopify
1- Ease of Use and User Experience Based Commerce:
The user experience is crucial in today's market. Positive customer experience leads to more sales and growth in business. A flexible platform helps you to customize your user experience and make your customers happy. It is always recommended to choose a platform that doesn't restrict your creativity. Below is a comparison of Magento and Shopify in terms of ease of use and UX.
| | |
| --- | --- |
| Magento | Shopify |
| 1- Magento offers flexibility to quickly integrate the innovative and in demand experience to delight your customers. | 1- Shopify experiences are built using a standard set of templates and this limits your ability customize your store and applying your creative idea about your website. |
| 2- You can activate pre-integrated modules for different technology provider with a single click. | 2- While some elements can be customized, but a number of features cannot be changed such as: checkout. |
| 3- There are 3600+ extensions in Magento marketplace to offer you the limitless experience. | 3- Shopify has limited extensibility and integration with the third party solutions. |
| 4- A large global community of developers and partners worldwide helps you to add value to your online store. | 4- Much smaller network of partners and developers community. Therefore, it becomes tedious to get support for your problems. |
---
2- Future Focused Platform
When choosing an ecommerce platform between Magento and Shopify, you need to consider the one that can grow and evolve with your business. It's always necessary to avoid the platform that cannot cope with your increasing business needs.
| | |
| --- | --- |
| Magento | Shopify |
| 1-Magento doesn't limit the addition of features and functions that you may need to add. | 1- Often you need to upgrade for expensive Shopify Plus plans once your business starts booming as the basic plans cannot fulfil all your growing needs |
| 2- You can integrate a variety of third party extensions to expand your store capabilities. | 2- Few important features like- order management, subsite functionality and complex product catalogs are not supported in Shopify. |
| 3- Magento supports your ecommerce needs, whether you sell for B2B, B2C or both. | 3- Shopify was designed for B2C, so their templates and apps are not capable of handling the complex functionality of large B2B stores. |

---
3- Managing Your Ecommerce Experience
| | |
| --- | --- |
| Magento | Shopify |
| 1- Using Magento, the merchants can easily handle multiple sites in multiple languages and can accept multiple payment methods all under a single Magento instances and accompanying license. | 1- For multi-country or multi-currency business, merchants need to purchase costly licenses for each country or brand. |
| 2- The Flexible Magento platform allows merchants to roll out their customer experiences in phases and evolve their store and user experience over time. | 2- Shopify has limited on product attribute and catalog size, and this is a disadvantage in case of large merchants with complex product sets. |
Are You Looking to Hire Dedicated Magento Developers?
---
4- Performance
| | |
| --- | --- |
| Magento | Shopify |
| 1- Global cloud infrastructure and services ensure 99.99% operational uptime and scalability no matter where customers are located. | 1- Shopify's multi-tenant architecture means that peak demand on one merchant's store can degrade the performance of other Shopify stores, meaning yours. |
| 2- Powerful business user tools help larger, more complex stores save time and improve business agility. | 2- Shopify's technology stack is locked down, leaving the merchant with no way to monitor, manage, or optimize site performance. |
---
5- Support and Assistance
Merchants may need assistance while implementing new features, upgrade and update, maintaining their commerce experience. At such time, the most helpful thing is to ask help from the community.
| | |
| --- | --- |
| Magento | Shopify |
| 1- With 260,000+ developers worldwide, you can easily find the help with all kinds of projects. | 1- Use of the proprietary liquid language leaves a limited number of developers who can help on projects. |
| 2- Magento has a large number of solution partners who offer a wide range of design and implementation services willing to help, regardless of what stage your project has reached. | 2- Shopify has a small community of developers, mainly located in North America. |
Also Read: Essential Guide to Customer Segmentation for Your Magento Ecommerce Store