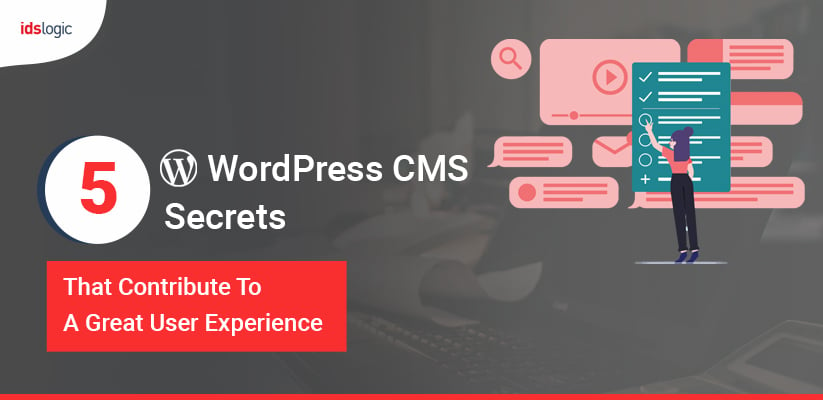 5 WordPress CMS Secrets that Contribute to a Great User Experience
We all are aware that WordPress CMS powers most of the websites across the globe and since it is free and easily customizable, business owners choose it to create sites and have complete control on the web content. What sets WordPress development apart is its ability to fulfill the basic need of businesses, which is to create a user friendly website.
Since its launch in the year 2003, WordPress has been recognized as a powerful website builder and a proliferation of plugins and themes have also been developed to support the applications. Since it comes with tons of tools and features, choosing the right ones for your website is a time consuming and tedious task. 
5 Top WordPress Secrets that can Make Your Site User Friendly
Website Health:
You should always hire a WordPress development company to check the site's health and keep it up to date and secure it from any cyber-attacks. Having a built in tool that helps to analyze your WordPress installation and also suggest some improvements is always beneficial. Maintaining the site's health helps to track if there are any issues related to the performance of the site or security and fix them before it turns to be something major. It also allows you to access some important information about the WordPress install and the server infrastructure on which it is hosted. This will help you to take informed decisions and maintain your website.
An easy to Use Noting Function:
If your users are commenting on your blog, then it means that the engagement rate is very high and this makes it more important to make your site user friendly. Here is how you can do it:
A Comment Widget: You can use an easy to comment widget that empowers the visitors to write a comment on your post and you can also use HyperComments.
Subscription to Comments: You should have an option to encourage your users to subscribe to the comment updates of your blogs or articles. This feature will help you to send an email notification every time the comment is updated.
A Comment Preview: You can also apply a feature to show the user the preview of their comment and this is a very useful feature nowadays.
Also Read: Understanding Ransomware and How to Save Your WordPress Site from It
Debug Mode:
A little known fact about WordPress CMS development is that most web hosting companies suppress all the PHP notices that include errors and other warnings. Though this may appear to be something negative, but it actually leads to a better website experience for your visitors. Sometimes the notice may be a deprecation, notice which the visitors don't need to see. It is by setting three PHP constants in the we-config.php file, that you can view all the PHP notices either in the separate debug.log file or in the browser.
Automatic Updates:
We all know that WordPress websites are the most under attack from bots and other malicious characters. It is from DDOS attacks to user database breaches, that keeping your information safe and secured online is becoming more and more important. By making a few adjustments, you can set your WordPress website and automatically update the WordPress plugin development and themes. These settings are disabled by default and so it needs some technical knowledge to set the right configuration.
Integration with the Social Media:
The true worth of a website is discovered on social media and to increase the user interaction in your WordPress website, you may want to add easy social media share buttons on your posts. For that, WordPress development needs to make use of WordPress plugins like the Social Share Buttons. UpToLike Social Share Buttons and etc. These plugins help the visitors to easily share the post on the social network and this again helps to increase the website's organic traffic and visits.
Also Read: WordPress Support Company: How It Helps and Why It Is Essential