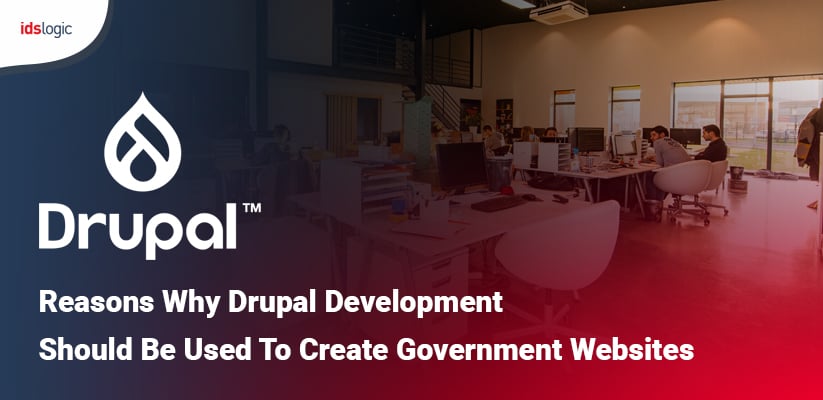 Reasons Why Drupal Development should be Used to Create Government Websites
Drupal has always been preferred by many organizations because of its rich features and functionalities and of it huge community that acts as a big support during any critical issues. The Drupal 8.8 version has focused on improving the management features that help the users as well as the developers to create a secure and smooth enterprise website. Today, many government organizations are opting for Drupal 8 development to create their websites. 
It is not that Drupal's popularity increased after many big brands started adopting it. It was already a famous in the CMS market and users are aware of Drupal's extensive features. Today, government bodies of various countries are one of the loyal users of Drupal and about 26% of Drupal websites are managed by Government bodies.
So here in this blog let's have a look at the reasons that makes Drupal their first preference:
Mobility is a Big Factor to Consider:
According to reports about one in 5 adults now own a smartphone and mobile traffic matters a lot for any website. Today it has taken over desktop users and the information says that more and more users are not using mobile devices as their major source of accessing data from the net. Government websites need to migrate to a better solution to reach out to the citizens and it is here that Drupal development comes. The Drupal 8 development has enhanced its capability to scale the site with faster load time, a comprehensive range of responsive themes that also function across various devices.
Also Read: Tips to Prepare for Installing the Latest Version of Drupal 9
Immense Flexibility helps to Meet Specific Needs:
Drupal web development is a CMS that offers complete control on the placement of the content by using a construction kit and this makes Drupal famous. It also offers multiple user accessibility, which means that the site can easily allow multiple users at the same time and this is an advantage for the government bodies as their sites are handled by more than a single user at a time. Drupal also provides lots of open source libraries to which the users can easily add different functionalities to the sites, creating a more user friendly platform.
Are You Looking to Hire Dedicated Drupal Developers?
Easy Web Content Management and Publishing:
Most Government departments have to focus on the latest issues and Drupal 8 development makes it easier to add posts, new web pages and other information easily. Drupal is also easy to maintain as it is in a word document and it also saves a lot of time on the content management as it can be used easily by the non-technical users. The Drupal editor allows embedding links, text formatting, inserting images in the content and many other functionality.
Also Read: Drupal 9 CMS and the Rich Features that it Offers
Cost Effective:
Government organizations also have strict budgets and tight schedules and so they need to be extra careful. Another reason that makes Drupal development a preferred choice is its cost effectiveness and low maintenance cost. There are other CMS in the market that comes with high maintenance costs and this makes it difficult for many organizations. Drupal is more cost efficient and above all, it is also more flexible and easily accessible.