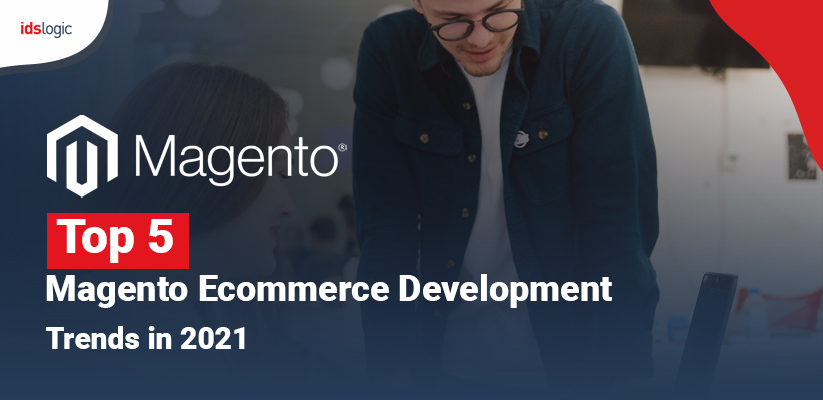 Top 5 Magento Ecommerce Development Trends in 2021
Due to the immense and the rising popularity of ecommerce industry, some of the new technologies are maintaining a constant pace with the new trends. Magento is amongst them which are following this league. To make your Magento store to emerge out as a winner online, it's important to implement the latest updates in your website. With the industry expected to hit $1.2 trillion in 2021, you surely can't afford to miss them for your business success.
Some Hottest Magento Development trends 2021 to watch out for:
# 1. Live Streaming
Live streaming is the biggest head-turner in the realm of ecommerce marketing. Considering the positive impact of audiovisuals, Magento 2 has started incorporating this feature to provide a product demo via live broadcast on your website or social media platforms. This paradigm shift is because of the COVID-19 crisis that has pushed brands to adopt this trend for interacting with their prospects.
Adding live videos on your Magento store can easily drive more traffic as audiovisuals provide more clarity about your service offerings. With real-time communication, a sense of inclusion comes in the customer's mind as all their queries are answered promptly. This can aid in winning the heart of your potential customers.
# 2. Push Notifications
Did you know that push notifications have a 90% higher opening rate? Yes, it's true. This implies that you can't undermine the strength of push notifications in attracting customers to your Magento store. Sending out notifications to your customers about the latest offers, discounts, and promotions become easier with the help of push notifications.
For keeping up with the trend, Magento 2 comes with a plethora of push notification extensions to sustain your online visibility. The cart abandonment is the biggest challenge faced by the ecommerce site owners. With push notifications, you can constantly remind customers about the products they have left in the cart, thus pulling them back to your store.
Also Read: Magento Ecommerce Customer Experience Trends in 2020
# 3. Voice Search
Voice search technology has taken the ecommerce industry by storm. It has contributed towards an enhanced shopping experience for the customers. With voice-enabled searches, they no longer have to type a single word to find their favorite products.
According to the Google guidelines, it is mandatory to add textual content for voice search, so that they can be visible in rich snippets. The product classification with voice aviation is important for delving into voice search. If you want to implement the apt search strategy, you should treat search queries as conversations.
Are You Looking to Hire Dedicated Magento Developers?
# 4. Chatbots
Chatbots are other popular Magento ecommerce development trends that are here to stay for the years to come. With the advancement in Artificial Intelligence technology, chatbots are helpful in predicting the future purchases of the customers. They can easily assess the purchasing behavior by checking the purchase history of the customers. Along with voice and text, chatbots also display high-quality images, video tutorials, web pages, and blogs related to the products.
As 83% of customers look for assistance to go ahead with their purchase, it is always good to offer them a user-friendly chatbot. If your customers need any information, then they can quickly look for help from the chatbot.
# 5. Personalization
Today, personalization has become the key factor for customer retention. That's because they favor recommendations and offers. Magento 2 has in-built features that ease out the segmentation and personalization. Due to the innovative technologies of chatbots and AI, your Magento store will offer products on the basis of the customer's preferences.
Also Read: Prepare Your Online Store For A Successful 2020 Holiday Season With Magento Commerce 2.4.1
Final Notes
With the ever-changing dynamics of ecommerce market, it is imperative for Magento website owners to stay abreast with the latest Magento trends 2021. By implementing them in your website, you will get an upper edge on your market rivals.