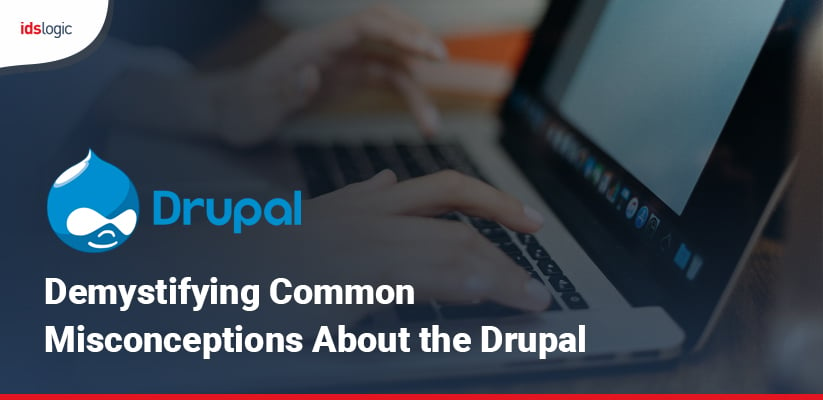 Demystifying Common Misconceptions About the Drupal
Drupal is a famous open-source content management system that has been used widely owing to its large number of advantages. This modern CMS is the most preferred choice for the startups, small, mid, and large-scale enterprises. It is both easy to use and customizable with no deployment complexities.  
Unfortunately, there are certain misconceptions that are spreading fast in the market related to Drupal. It is advisable not to pay them attention and start deploying this for your website to make the most out of this platform. Choosing Drupal development agency to build robust and scalable solutions for your business would be a good initiative from your end.
What are the Top Myths About Drupal CMS?
Here, in this blog, we will demystify the misbeliefs about the Drupal CMS one by one. Let's take a look to know more:
Drupal is not safe to use
This is completely wrong. It is a highly secure CMS that has been used by the governmental organizations. The Drupal community is extremely serious about the security factor, and is dedicated to making this platform as secure as possible for the users. Not only this, Drupal experts are consistently working to upgrade this platform and removing bugs and errors to make this platform deliver high-grade performance.
Drupal is devoid of enterprise features
Drupal lacks in enterprise features that makes it not suitable for large enterprise websites. This is so not right. This powerful CMS has the ability to create complex and feature-packed enterprise websites faster. It is bestowed with all the relevant features that one would require to create an impeccable website.
Are You Looking to Hire Dedicated Drupal Developers?
Drupal is not suitable for small websites
This is again a misinformation about the Drupal CMS. No heavy resources are required to initiate the Drupal web development process. Its installation is simple and you can get started with it without any hassle. With the availability of large number of extensions and modules, the website development becomes easier. That makes it perfect for building all types of websites.
Also Read: 10 Important Modules to Build Your Drupal 9 Website
Drupal lacks community support
We all are aware that Drupal is an open-source platform. Many developers are working day in and out to improve this platform and keep it up-to-date. It is a pointless fact. With its robust support system equipped with knowledgeable team developers, you will quickly get an apt solution to all your technical hurdles. If you stuck anywhere, then you can look up to Drupal community support for assistance.
Also Read: Reasons Why Drupal Development should be Used to Create Government Websites