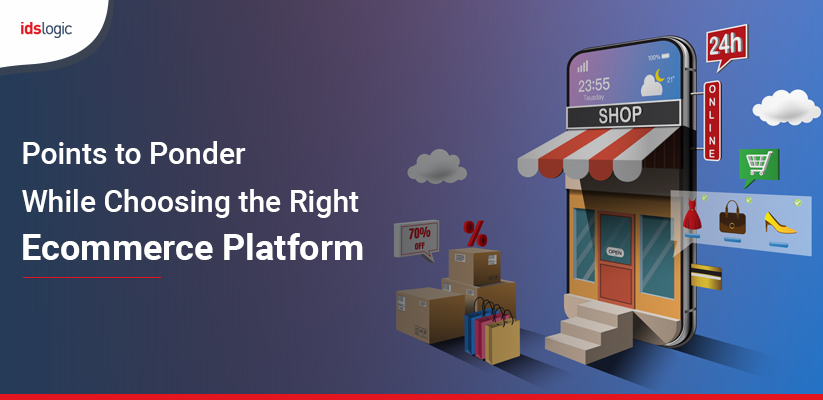 Points to Ponder While Choosing the Right Ecommerce Platform
Ecommerce industry has shown a tremendous growth in the last couple of years. With billions of online shoppers from all over the world, the industry is no mood to slow down. This has lured many businesses to launch their websites, and pave way to exciting business opportunities.
If you are planning for eCommerce website development, then it is extremely important to choose the eCommerce platform that aligns with your long-term business goals. With the plenty of options online like Shopify, PrestaShop, Magento, it becomes quite difficult to make any decision.
Important Points of Consideration While Choosing an eCommerce Platform
Choosing the right eCommerce platform requires you to consider certain factors. Just have a look at these points that are crafted to make your selection process straightforward:
This is the foremost thing to consider while choosing any eCommerce platform. No matter what your business size, it is necessary to check what amount you have to pay exactly. Every eCommerce platform asks for a certain monthly fee from the users. There is also a price variation between the hosted and self-hosted platform. You should choose any option wisely by analyzing your business requirements and budget.
The majority of the web searches and purchases are done using the mobile devices. That means it is important to have a website that offers seamless browsing experience on the mobile devices. Look for an eCommerce platform that comes with the feature of mobile friendliness as it can attract more and more visitors to your storefront.
Are You Looking to Hire Dedicated Magento Developers?
Having an eCommerce platform that is bestowed with rich SEO features will make your eCommerce store to secure higher search engine ranking. With an improved visibility, your customers can easily find your store online.
Also Read: An Ultimate Guide to Efficient Ecommerce Product Page Design
Scalability is one thing that you should never forget while choosing an eCommerce platform. As the business expands, so do your eCommerce platform. Make sure that you pick the one that is highly scalable and grows with your business needs. That's because the platform that is not scalable often disrupts the growth of a business.
A great customer support is the requisite for the business success as it leads to higher customer satisfaction rate. When things don't go smoothly, you will require the platform that provides unbeatable support to resolve the issues faster. Always choose an eCommerce platform that comes with round the clock assistance via mail, chat, or call.
Also Read: 5 Ecommerce Web Development Trends to Look Forward in 2021