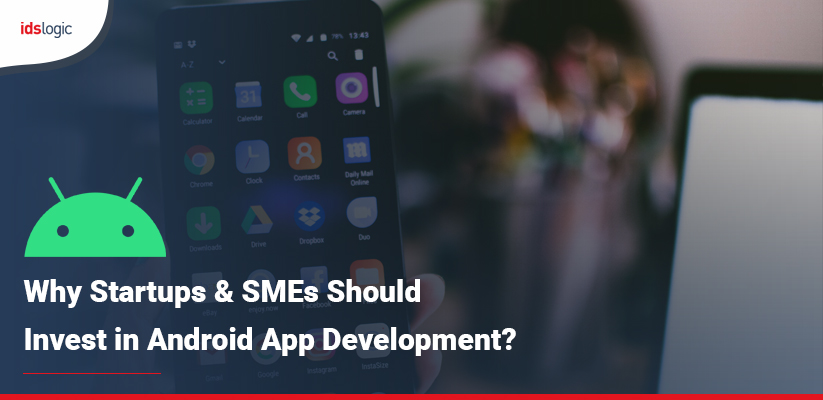 Why Startups & SMEs Should Invest in Android App Development?
If you have a startup or SME, then it is essential to choose the mobile technology that is high in demand these days. So, you can easily attract a large number of audience towards your business. Android is certainly the most effective choice that you should choose for building an app.
Android is a renowned mobile app development platform used for building feature-enriched apps with faster turnaround time. In fact, it holds a market share of around 87% which is an impressive number. So, it is a smart decision to go with Android app development.
Listed below are the top reasons for Startups and SMEs to invest in Android app:
Wider Audience Reach
As mentioned before, Android has a large market share all over the globe. It clearly indicates that this platform will provide a wider audience reach. That's why it is best to build an Android app for your small scale business and take it to the heights in the least amount of time.
Are You Looking to Hire Dedicated Mobile App Developers?
Provides Better ROI
We are versed with the fact that Android app is an open-source platform. For startups & SMEs, it is the best thing as Android app developers can utilize the SDK and tools free of cost. This will directly reduce the overall cost of building an app. Moreover, they don't have to incur the cost for training the developers as they will be highly experienced in this niche.
Builds App Faster
The startups & SMEs that wants to launch their app as soon as possible in the market are advised to go with Android platform. With this platform, the developers can easily access code libraries that leads to faster creation of apps as compared to web apps.
Also Read: Everything You Need to Know About Android 12 New Features
Vast Marketing Options
Android apps can be submitted to third-party platforms along with Google Play Store. This means that these apps are not bound to only single app store. This provides them excellent opportunity to promote their apps and makes them available on various platforms.
Why You Should Look for Trusted Android App Development Partner?
Hiring a reputed Android app development partner offers plethora of benefits that are listed down below:
Access to talented pool of resources
Efficient project management
100% transparency throughout project's lifecycle
Flexible engagement models
Faster time to market
Building a secure and scalable Android app requires expertise for which you can rely only on the companies that have a proven track record in this domain. So, you need to decide wisely before jumping into any decision.
Also Read: 5 Must-Have Features of Travel Android Mobile App