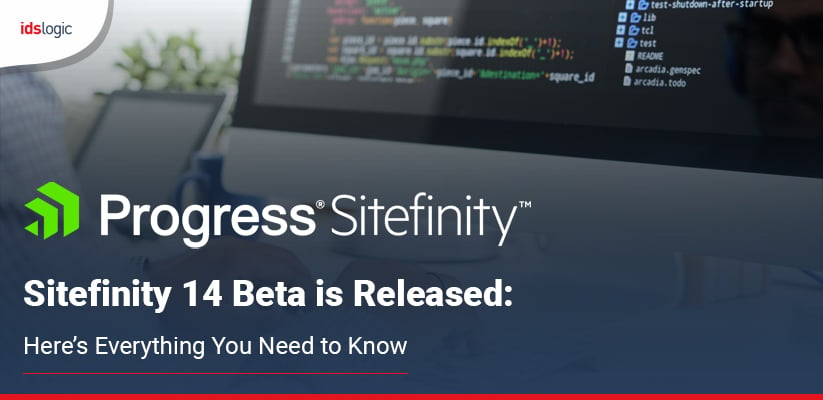 Sitefinity 14 Beta is Released: Here's Everything You Need to Know
Sitefinity 14 Beta is out now! The users have asked for this for quite a while now and Progress Sitefinity has fulfilled it on time. Those who have plans to invest in Sitefinity development must check out what's new in this version. It has been launched with some remarkable features that will surely impress the users all across the globe.
Let's take a deep rundown to understand more about its features:
Native Chat Integration
With the help of NativeChat widget, it has become possible for the Sitefinity users to integrate Progress NativeChat into their web pages. When you build NativeChat chatbot, it will fully support self-service, automation, and multi-channel customer experience. For the configuration of the bot's website appearance, Sitefinity's no code widget designer will be of great use.
Excellent Low Code Integration
For an enhanced digital performance, multiple system integration is essential these days. Thanks to Sitefinity service hooks, streamlining of such integrations can be done easily due to the availability of large number of hooks that gets triggered on particular internal events like posting or editing the content, form filling, etc.
Are You Looking to Hire Dedicated Sitefinity Developers?
Superior Headless Content Management
Within this, optimization and expansion of Sitefinity's content APIs has been done in the right manner. This provides a total control on the entire experience. Delivering targeted content to the users that they want to read with an improved page layout API with personalization capabilities can be achieved with its help.
Streamlined Content Synchronization with SiteSync
SiteSync is the most utilized and favorite feature of the content editors till date. This is mainly because of its ability to update and post content faster. Within Sitefinity 14.0 version, the editors can schedule or remove content pieces on the staging environment, and synchronized through the live environment.
Also Read: Why SSL Certification is Important for Your Sitefinity Website?
Simple & Lightweight Authentication
With no dependence on IdentityServer3, Sitefinity's highly advanced default authentication mechanism has decreased the difficulty. This in turn will boost the login performance for the end users that reduces the screen loading time that demands authentication.  Now, the developers will a lightweight solution that is scalable and easy to maintain.
In short, Sitefinity 14 Beta is packed with amazing enhancements that will solve integration complexities, and boost efficiency and security.
Always find the trusted Sitefinity development company that maintains a constant pace with the latest changes in this CMS. This will prove valuable for your development project in the long run.
Also Read: What are the Benefits of Sitefinity .NET Core Renderer?