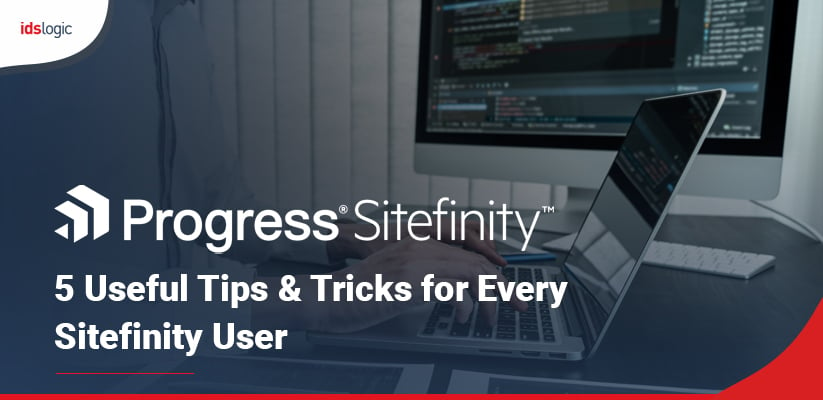 5 Useful Tips & Tricks for Every Sitefinity User
Sitefinity is a popular choice of enterprises all across the world. It is bestowed with advanced features that makes it convenient to create, edit, and upload content on the website. This helps in empowering the digital presence. Owing to this fact, more and more enterprises are choosing Sitefinity development for their websites.
If you are using Sitefinity for the first time, then we've shared some useful tips to make your experience as smooth as possible. By implementing them, the best results are assured, so let's take a quick look at them:
Activation of Automatic Sitemap Generation
Sitemaps play a crucial role in the search engine optimization. This allows the search engines to crawl the web pages faster resulting in higher indexing. Within the admin menu in the tool section, you will find Sitemap. You can set the frequency of sitemap generation from there.
Avoiding Custom Backend Templates
Although, Sitefinity allows the addition of pages to the backend admin, but it would not be an effective option to build a custom admin template with these pages as it can break with upgrades. The best you can do is to avoid using them for safeguarding the integrity of widgets.
Are You Looking to Hire Dedicated Sitefinity Developers?
Usage of Multisite for Managing Multiple Sites
With single Sitefinity CMS instance, you can efficiently manage multiple sites. Its multisite feature allows content sharing between several sites, and enable/disable various modules between sites. This will save both the time and efforts of the users to a great extent.
Edit Photos Using Sitefinity Only
Sitefinity allows editing of images in the backend. Once you upload any image to the library, you need to visit the image properties section where you can easily edit, crop, resize, or rotate the image. This eliminates the need to use the third-party photo editing app.
Also Read: Sitefinity 14.0: What's new you can expect from it?
Avoid URL Duplication
When you create or edit any page in the Sitefinity, you may see the error "URL already exists" while saving the page. As you check, you will find out that no such URL is present. The possible reason for this is that such URL might be there in the Recycle Bin. So, you need to get it cleaned to get rid of the URL duplication issue.
In short, by following the aforementioned tips, your experience of using Sitefinity will become simpler and enjoyable at the same time. If you are planning to build a website with this CMS, you should look for the reliable Sitefinity development company for fulfilling your purpose.
Also Read: Why Developers Like Sitefinity Marketplace?