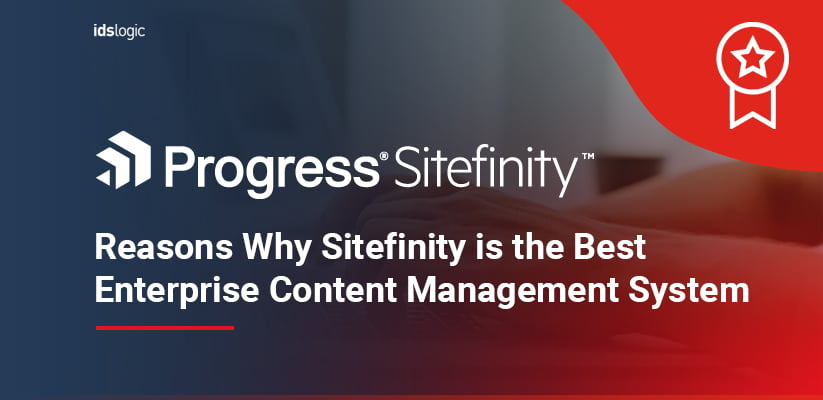 Reasons Why Sitefinity is the Best Enterprise Content Management System
Nowadays, a digital presence has become integral part of the enterprise. It has a direct impact on the ability to grow and flourish online. That's why, a good content management system is vital to accelerate the business growth.
There are many content management systems that are effective in the management of online strategies. However, to manage them effectively, you will require certain features in order to make these strategies successful. Sitefinity is one of the best CMS that is super-suited for the enterprises.
What is Sitefinity?
Sitefinity is a popular ASP.NET based CMS and digital marketing platform. It was launched in the year 2005 by Telerik. Ever since its inception, it has drawn an impressive customer base. More and more enterprises are integrating this CMS and appointing Sitefinity Partner Company to assist them in the same.
Being a leading CMS, Sitefinity comes with tools and features to create dynamic and editable websites. This makes it a perfect solution for different types of websites be it small, mid, or large scale businesses.
Why is Sitefinity the Best Enterprise CMS?
Sitefinity comes with a host of benefits that are discussed below:
Multisite Management
Sitefinity offers smooth and user-friendly interface for different websites for the same enterprise. If you have multiple websites or microsites, Sitefinity allows developers to manage the content of all the websites from a single dashboard.
You will also get the option to define multiple levels of user permissions which clearly specifies which user can edit, access, and control within a website.
Are You Looking to Hire Dedicated Sitefinity Developers?
Multilingual Support
The customers prefer to communicate in their native language. If you have plans to expand your global reach, you have to ensure that your website should be in their native language. With Sitefinity, you will get the multilingual support. You will be able to deliver the same content in a different language to the customers across different regions.
Also Read: A Comprehensive Guide to Optimize Sitefinity
Additionally, the translation process is an easy task as it can be performed manually using workflows or integrating third-party translators. Above all, Sitefinity offers the admin interface in a number of languages.
Personalization
One of the best features of Sitefinity is its ability to display personalized content. An enterprise can select the content to display on their website on the basis of the user visiting their website. Firstly, the developers have to segment the visitors based on the demographics and the search terms that they utilized in reaching the website.
After creating the segmented list, you can start defining the content that you want to display for every segment. You can even check the website's performance for multiple segments of visitors by utilizing different KPIs.
Also Read: Quintessential Tips for Choosing the Right Sitefinity Solution Partner for Your Business
Security
Data security is a matter of concern for all enterprises. Sitefinity always keeps a strong security check. As mentioned before, it permits the website admin to define custom user access to web content and functionalities. You can even track activities and maintain transparency.
Sitefinity also ensures that its security protocols adhere to the best practices to offer a greater level of security to the website.