Facebook Marketing: Enhance Brand Visibility and Effectively Connect With Customers
Facebook is now considered as the biggest social network and its worldwide adoption and impressive growth has taken it directly into the online marketing world. So, if you have a Facebook page, then chances are high that your visitors will find your business when they search for some services or products on the internet. With more than 600 million users, Facebook marketing is a serious platform that every business should consider to connect better with the audience and to potentially increase awareness of the brand.
Well the good news is that, we at IDS Logic, a reputed Facebook marketing India agency offer various customized solutions to suit your specific campaign requirements and budget, thereby helping to bring up the brand value and enhance the online presence of your business. Our social media team takes complete care of your Facebook presence so that you can easily build loyalty among your customers and increase your traffic to the site.
Here's what we can do for you?
Consulting services:
We help our clients to formulate an effective marketing strategy according to their business objectives and help them target potential audience.
Launch and manage ad campaigns:
We create text and graphics that are a perfect blend of creativity and help to increase the demand for your products or services.
Facebook pages for business:
Our creative team of designers, developers and marketers can help you to create a public profile that helps to connect and engage your customers and amplify your business voice to everyone.
Statistical monitoring and ROI reporting:
We use Google analytics and Facebook insights to create reports to check the progress of the campaign and the ROI performance. This reflects data about who is engaged with your ads.
Business Benefits of Facebook Page Marketing
Facebook page makes your web content pages more dynamic and SEO friendly
It gives an input as how your business is perceived by others
Helps you to gain access to millions of potential consumers
Communicates with customers and gain valuable feedback
Creates quick alerts and notifies visitors of special events, discounts or offers
Drives more traffic and creates a unique brand identity
Creating a customized and professionally designed Facebook page can help you to remain ahead of your competitors and also target new audience base. It is a perfect means to reach niche markets and advertise your business based on specific geographical and social information.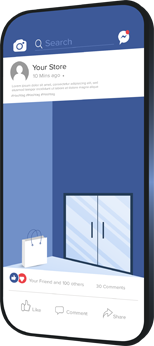 Why partner with us?
Now that you know the benefits of Facebook business page marketing, it is time to take advantage of it. Not having created a Facebook page will only mean fewer leads and missed opportunities. If you are interested, then get in touch with our experts and we will assist you to create a competitive Facebook campaign.
Have an expert creative team working on your project
All our professionals have years of experience in various industry verticals
Customized solutions to suit specific business needs
Monitoring and reporting of the campaign to check performance
Competitive price to suit all budgets
Let's discuss your project ?
Take 30 seconds to fill out our form so that we can learn more about you and your project.
Contact Us