Creating PSD to HTML5 Web Designs That Are Highly Optimized and Easy To Manage
We all are aware of the fact that the World Wide Web gives preferences to readable web pages over those lacking this factor. Since websites are great means to market your brands and products, the success of your business also depends on the sales that your site generates. Designers often choose to use Photoshop to show their creative nature and the files are known as PSD files. But these files cannot be uploaded directly into your site, so it has to be converted into code files or HTML files.
IDS Logic can help you with their PSD to HTML5 conversion services. Our wide range of services is suitable for small, medium and big enterprises. So give us your designs and we can convert the Photoshop designs into a 100% hand coded, E3C validated, pixel perfect and cross browser compatible HTML5 designs. We are a team of professionals having expertise to work on various versions of HTML, enabling our clients with more flexibility and better results.
Some of Our HTML Conversion Services Stretch in the Following Areas:
PSD to HTML5 Conversion
Custom HTML5 web development
Responsive website design
XHTML programming
Cross browser compatible XHTML
Website redesign and maintenance
Why You Will Love By Partnering With Us?
Great expertise in PSD to HTML conversion
High quality W3C Valid Markup
Customized themes, templates and skins
SEO optimized pages
Fast and on time deliveries
Guaranteed satisfaction
Affordable service charges
Our wide range of PSD to HTML conversion solutions helps you to translate design templates into comprehensive, palpable and simple web pages. For more information, please send us your requirements or talk to our executives and we will offer the best solutions that suit your needs.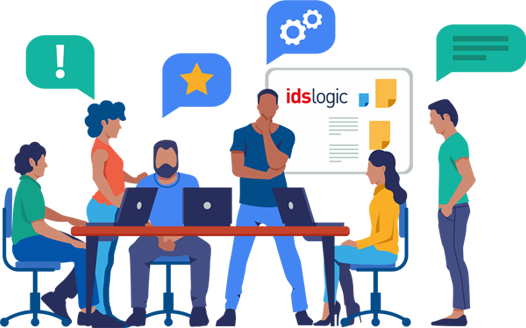 The Process That We Follow:
At IDS Logic we accept designs in varied file formats that include TIF, JPG, PSD, BMP, PDF or etc. and our team of experts initially make a complete analysis to understand all the intricacies before starting with the process.
Once the project starts, our front end web developers start with hand-coding the designs. The PSD images are sliced and the design elements that include fonts, colors etc are converted into HTML code. Our developers go through each layer, making sure that it is pixel perfect and the codes are written in HTML5 with external CSS style using the latest web standards.
After the basic HTML and CSS coding is done, our experts start with jQuery animations and include interactions on the page. They also take care that the coding is mobile optimized PSD to HTML conversion resulting into cross platform solutions.
At the end, each project that we accomplish undergoes a thorough quality inspection so that your PSD to HTML conversion solution is complete for final delivery.
Let's discuss your project ?
Take 30 seconds to fill out our form so that we can learn more about you and your project.
Contact Us