Enlighten Electrical partners with Pawlo Designs and IDS Logic to launch their new website that offers ultimate user-friendly experience, improved navigation and higher brand visibility.
Pawlo Designs, a reputed web designing company in the U.K and IDS Logic, a leading software development company operating from Noida and the U.K proudly announces the launch of their new client's website Enlighten Electrical. The company is a full service electrician service provider covering areas that include the Northwest of the U.K. Manchester and Liverpool and the surrounding areas.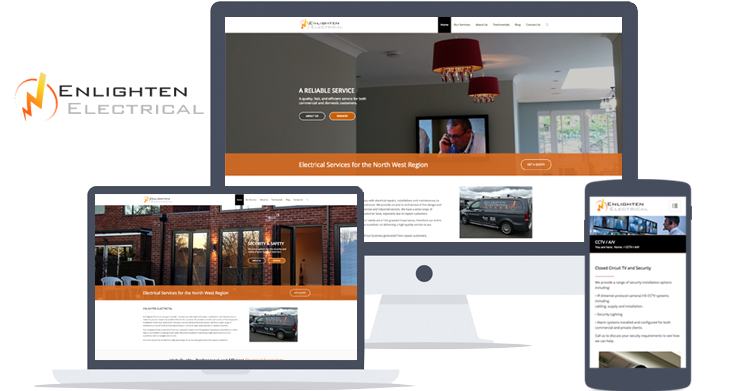 A greatly designed website was the first requisite of the business owner and it is here that Pawlo Designs has helped Enlighten Electrical with the creative aspect, branding, population, client management and web content. The expert designers have helped to create eye-catching user friendly designs that automatically attract the target customers. IDS Logic on the other hand took care of the development and the technical part and has helped the company to develop a new website that offers easy access to essential information.
The rich features of the site offered a more comprehensive understanding of the company's products and services.
The old adage says "Two heads are better than one" and it helps in finding effective solutions, combine talents and reach out to newer markets. The collaborative efforts of Pawlo Designs and IDS Logic have helped Enlighten Electrical to get the best out of technology and their investments and enhance the performance of the site.
After initial analysis of the business requirements, both the companies decided to use WordPress CMS so that the web content could be easily managed by the publishers and managers of the site. This platform was chosen as it is very user friendly and has over thousands of plugins that can be added to create a more advanced and feature rich site. The new site has been developed carefully with improved navigation and functionality, so that it allows the customers to view the wide range of services and products that the company offers.
The new website offers a vibrant design and clean layout. Various service sections like installations, inspection and testing, CCTV/AV, recent work and projects have been added to guide the visitors through the organization's dynamic services. Besides these, numerous WordPress plugins have been added to make the site more functional.
The new site is a reflection of the increasing demand for the services and reflects the strong reputation that the site enjoys as an esteemed industry leader. The site gives invaluable ways to connect with the customer as it is a responsive website that can be easily accessed from various browsers or platforms.
About the company: Pawlo Designs is a leading web designing company operating from the UK that offers customized, creative and innovative web designing solutions to its clients. IDS Logic is a reputed software development company offering various IT services related to latest technologies.
Published By– IDS Logic Press Room