IDS Logic is pleased to announce the launch of a new website of Bonus Club. The newly designed website in Umbraco CMS offers visitors rich insights and easy access to explore the site and avail cashback on various services.
3rd April, 2020, Noida: Bonus Club, a division of Limitless Digital Media is proud to launch their new website with the help of IDS Logic, a reputed software development company in India. Bonus Club is a reliable cash back website that offers the users to enjoy some additional cashbacks or bonuses from different services. The website offers a wide range of bonuses like the birthday bonus, monthly bonus and regular cash bonus and users can claim them after the transaction is approved and the payment is made via PayPal payment gateway.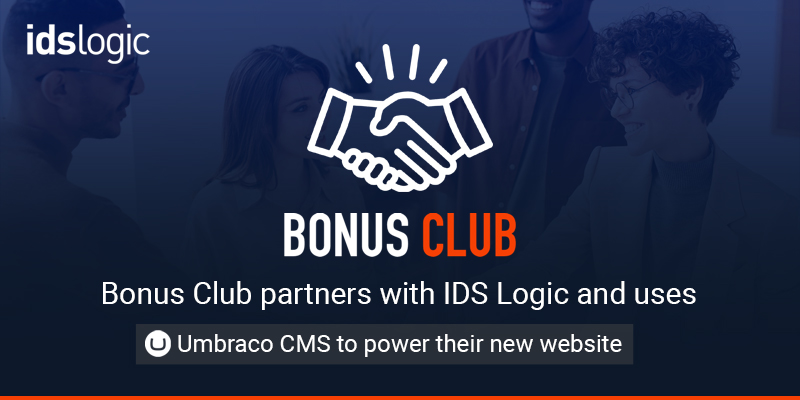 The client was looking to create a fresh and clean website that could help the users to gather more information about their services and win cashback or bonuses from the site. Their core aim was to attract more users to the site and increase traffic. They wanted a new site using Umbraco CMS so that its flexibility, scalability and modern approach to development could be used at its best to create a customized solution. Their ambition was to create a rich and functional website that needed very less manual inputs from the administrators of the site. And in long terms, they wanted to stay ahead of the top cashback companies in the market.
At IDS Logic, our Umbraco CMS developers are highly experienced and have worked on various Umbraco CMS development projects. The developers utilized the extensible Umbraco features to integrate content and present it in a more interactive way to offer a seamless and engaging user experience. The core objective was to develop a stable and a future proof website that allowed public access to a wide variety of services and also receive free publications and information related to the website.
Our developers used the extensible features of Umbraco and also integrated a large number of external systems to continue with their usual business process related to marketing and customer management. The main integration was with the Active Campaign that allowed the client to create as well as send marketing materials easily and send it to the website subscribers. Our Umbraco experts also provided a software training to the client.
One of our sales managers have stated that "The purpose behind the new look and feel of Bonus Club website is to better provide innovative resources and information to the users, highlight the latest offers and attract traffic to the site. The new website will help the client to attain their core business objective and boost their ROI."
The launch of the new website helped the client to attract more users and build new customer relationships, keep their prospects informed, share knowledge and help them earn money online. The site is clean, innovative and interactive and helps in generating more business and ROI.