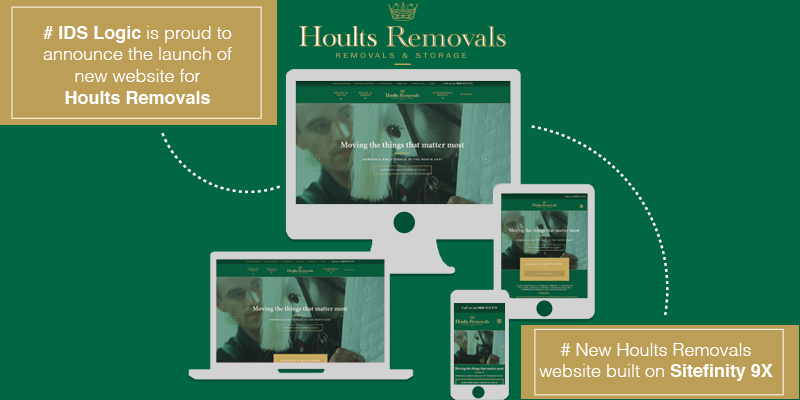 A lack of content management was also making it difficult for the Hoults Removals team to update the website and extend its reach with new content. These factors, as well as the underlying business objective of increasing online enquiries, combined to form the web brief to IDS Logic.
Talking about the design challenges of the project,
Chris Pearce, Marketing Executive of Hoults Removals commented:
Small border for heading and paragraphs with multiple colors
"Hoults Removals enjoys a proud position in the North East and has a very rich heritage. It was important to us that the new website reflected this. We wanted to project the individuality of our brand online and differentiate ourselves from many of the competing companies operating in the region."
Taking a holistic approach to the project, IDS lead the project from end to end, starting with the initial creative concept.
Built around the theme "Moving the things that matter most", the new design utilises imagery of some of the more individual and personal items that customers need to move. These are presented to reflect the attention to detail and personal care that make up every Hoult's customer experience.
A clean, responsive web layout presents content in an accessible and digestible way, emphasising the friendly and approachable nature of the brand and offering compelling reasons to enquire using a simple enquiry form.
As with all IDS projects, the site is fully search friendly to support Hoult's digital marketing activities with organic and paid search platforms.
Dan Sacker, Project Director, commented on IDS Logic's work on the project.
Small border for heading and paragraphs with multiple colors
"We're delighted to have been appointed to work with this individual local brand and to have the opportunity to positively influence Hoults' digital marketing. Initial insight is already showing that the new website has been very successful in increasing web enquiries, so far doubling the conversion rate. We expect this trend to continue as the new website's profile and visibility increases further."
With stability and security at the heart of any successful website, IDS also managed the hosting infrastructure and support arrangements for the new site. This has achieved a web platform which aside from loading extremely quickly also remains stable and operational without downtime.
IDS Logic look forward to developing the Hoults Removals new website further in the future, as the company's attention turns to increased integration between marketing and customer service functions.
For more information about IDS Logic's digital development services and our experience as a certified Sitefinity partner, please contact…
Published By– IDS Logic Press Room