The new website of Families is launched on 1st of July to support the strategic move by Lifecycle Marketing.
Small border for heading and paragraphs with multiple colors
Following the successful launch, in 2014, of new website for Lifecycle Marketing's pregnancy channel, Emma's Diary, developed by IDS Logic, Lifecycle commissioned IDS to develop their new flagship Families Website on the Sitefinity CMS in May 2015.
This ambitious project saw Lifecycle Marketing acquire and restructure two existing brands, Families and Mums in the Know, bringing them together to create a new platform for the UK's leading local information resource for parents in the UK.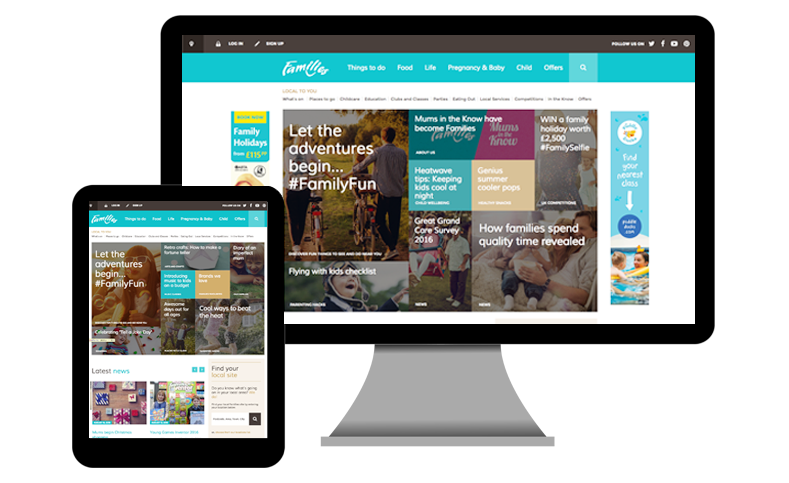 The new website combines a rapidly expanding local listing directory of 200,000+ local places, attractions, sellers and education listings and events as well as thousands of market leading national and local editorial features and offers including national and local competitions. It also embraces user generated content by allowing end users to promote their own businesses and events to Families audiences around the UK.
The project presented a significant analytical and development challenge to IDS. Starting with a rigorous programme of business analysis, IDS identified the business needs of the two brands, assessing the project from commercial, operational, web content and back office perspectives to define a clear set of web requirements for the project.
Chris Manko, Technical Solutions Architect at Lifecycle, commented on IDS's approach to the project.
Small border for heading and paragraphs with multiple colors
"A Major challenge with this project was to unify our operational practices and develop a web system to support them. IDS helped us to crystallise our business requirements and provided valuable web technical know how on how we could make our new business model work online."
He continues.
"With a network of 300+ local editors and area managers contributing and managing large amount of content in their individual territories around the UK, We needed a web content management experience that was both quick and easy to use, but which allowed us to control access to individual users and groups. IDS worked laterally to our brief and were proactive in shaping requirements and solutions."
Working closely with the Lifecycle Marketing team and their creative and user experience partner, IDS Logic managed this 14 month development project from conception through analysis, development, testing and deployment, leveraging the powerful capabilities of the Sitefinity CMS along the way.
Narayan Mohapatra, MD at IDS LOGIC. Says
Small border for heading and paragraphs with multiple colors
"Sitefinity gives us the perfect combinations of CMS functionality that we can use out of the box, with the flexibility to integrate bespoke code where we need to."
He also added
"For us that freedom is key. many of the requirements on this project, including the sage line 50 connected sale booking system which powers the financial and commercial aspects of the site, had completely bespoke requirements. Sitefinity's inherently extensibility allowed us, to integrate our bespoke code seamlessly into the CMS. The result is a central online hub accessed by hundreds of content editors every day, reaching a vast Families audience across the entire country."
The Families website is launched on 1st July as originally planned and this on time delivery was critical to meeting the commercial expectations of Families' own clients and partners.
Following another successful launch, IDS and Lifecycle continue to work in partnership on major digital projects. Work is already underway to further develop the Families site as well as others in the Lifecycle Marketing portfolio in the immediate future.
For More Information about IDS Logic'S Digital Development Services and our experiences as a certified Sitefinity partner,
Please CONTACT…
Published By– IDS Logic Press Room